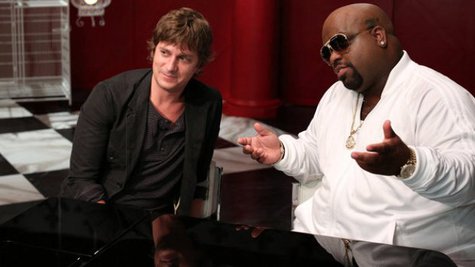 Rob Thomas is appearing on The Voice this season as a mentor to Cee Lo Green 's team. But the Matchbox Twenty frontman says that he turned down a chance to be a full-fledged Voice coach, because it seemed like way too much work.
Speaking with New York Newsday , Rob explains, "I was asked to be a judge on the Australian version of The Voice . And after watching these guys and seeing how hard they work, I just don't know if I have the desire, because it's like another career."
Rob and current Voice coach Adam Levine go way back, and he tells Newsday , "The thing I'm most amazed at is seeing Adam and seeing how well he's doing with Maroon 5 and how ... he's really working hard at that and also being able to pull off this job. It's just a work ethic that I'm stunned by, and just think is great."
Being a mentor on the show allowed Rob to be involved, but in a limited capacity that better suits his schedule. Explaining why a show like The Voice appeals to him, he explains to Newsday, "It's just kind of an amazing piece of pop culture right now. The idea [that there's] no age limit, the idea that you could have tried out before, or had a professional job before -- there's no limit, it's just about talent. That really appealed to me, and the fact that a number of my peers were the judges."
Copyright 2012 ABC News Radio