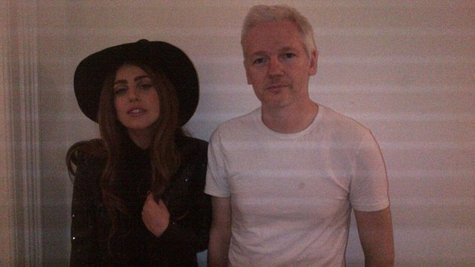 Lady Gaga sure moves in some odd circles. According to published reports, she spent five hours Monday night hanging out with Wikileaks founder Julian Assange in the Ecuadorian embassy in London.
The controversial Assange has been hiding out in the embassy since June, when the country of Ecuador granted him political asylum. U.K. lawmakers want to extradite Assange to Sweden, where he's accused of sexual assault. If he steps outside the embassy, he'll be arrested.

Why did this meeting happen? Well, Gaga was in London to promote her new fragrance, Fame, at that city's famous Harrods department store and several reports have noted that she received a tweet from rapper M.I.A . that was an invitation of sorts. In the tweet, M.I.A. told Gaga that if she was going to be at Harrods anyway, "come visit Assange at the Ecuador embassy across the st. im there. ill bring TEA and CAKE."
Gaga was photographed leaving the embassy, dressed head to toe in black, and later posted a photo on her social networking site, LittleMonsters.com , showing herself posing with Assange. The caption read, "No Headline," which fans have speculated is an invitation from Gaga to form their own opinions about Assange.
Copyright 2012 ABC News Radio