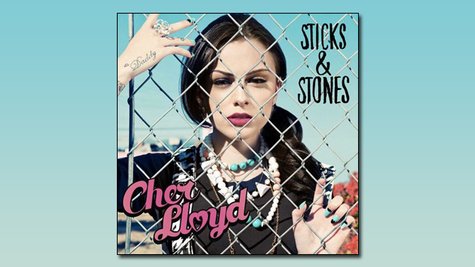 The new wave of British artists who've been invading the U.S. charts over the past year has largely been male, from The Wanted and One Direction , to Ed Sheeran and Olly Murs . But now, it's time for the ladies to represent for the U.K.
Cher Lloyd who, like 1D and Olly Murs, is a former finalist on the British version of The X Factor, just released her U.S. debut album, Sticks + Stones, last week, and it's on track for a possible top-10 debut this week. It includes Cher's hit "Want U Back," as well as her brand-new single, "Oath."
Cher, who's a big star back home in the U.K., tells ABC News Radio she's enjoyed the challenge of breaking America. "It's, basically, being able to start again but on a bigger playing field, and it's great to be given such a huge opportunity," Cher says. "Of course, I didn't really realize how big America actually was until I got here, and we started doing promotion and stuff like that...it's great to see how many fans that I'm picking up along the way."
Now that Sticks + Stones is out, the album will probably earn Cher even more fans; it's an eclectic record that explores many different sounds. The title, however, isn't the name of a song...it's a reference to the old saying "Sticks and stones may break my bones but names can never hurt me." For Cher, that's a powerful message she wants to impart to her new-found fans.
"It's something that my mother used to say while I was growing up. I had a rough time at school, and it's basically my message to young girls and boys," Cher tells ABC News Radio. "You know, people may say nasty things...it's just something to feel good about. And that's why I named it that, and it makes me feel good when I think about it."
The sassy song "Want U Back," which Cher recently performed on ABC's Dancing with the Stars, is what really raised the singer's profile in the U.S. While she didn't have a hand in writing that track, Cher says she knows plenty of people who've gone through that same situation.
"Growing up, I had a few close friends and they'd end a relationship and then see that boy with someone else and they'd get really mad about it," she tells ABC News Radio. "And that's why, when I heard the song, I knew that it was so relatable...it makes you think of how many people are out there that actually get jealous over that stuff."
In addition to its subject matter, another memorable aspect of "Want U Back" is the percussive "grunt" sound that you hear throughout the song. Turns out that's actually Cher herself doing the grunting.
"I was in the booth and there was a particular note that I couldn't reach and I get very frustrated with myself when I can't do something," she explains. "So, I grunted and it was out of pure anger with myself. And [the producers] kept it in, and they looped it the whole way through. It's become like a trademark thing for me, and whenever anyone sees me, they grunt!"
Copyright 2012 ABC News Radio