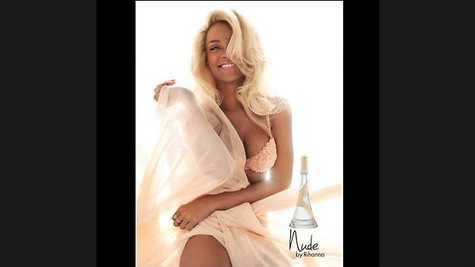 Rihanna 's new single "Diamonds" is #1 on the U.K. sales charts, selling 105,000 units. That's according to Billboard , which reports that "Diamonds" is Rihanna's sixth U.K chart-topping single as a solo or headline artist. The song is Rih's seventh #1 if you include her guest appearance on Jay-Z 's "Run This Town," also featuring Kanye West .
In other Rihanna news, she took to Twitter recently to unveil her new Nude promo ad. While Rih stripped down for the photo, "Nude" is actually the name of her new fragrance. "Here is my new add for a brand new fragrance #NUDE !!! Make sure you smell sexy, especially naked, this fall," Rih wrote to her more than 26 million Twitter followers.
The ad shows a blonde-haired Rihanna smiling for the camera. She's wearing a frilly, peach-colored bra, with peach chiffon wound loosely around her torso.
Nude joins Rihanna's previous fragrances, Reb'l Fleur and Rebelle.
Copyright 2012 ABC News Radio