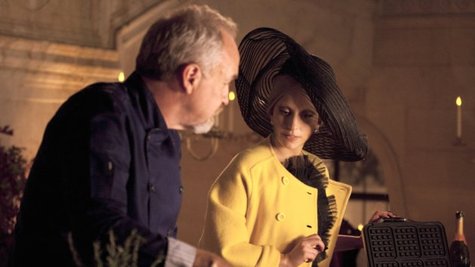 Ever since Lady Gaga's parents opened up their new restaurant in New York City, the critics have not been kind. Now, the restaurant is also getting low marks from the New York Health Department.
According to TheSmokingGun.com , during an October 2 inspection of Joanne Trattoria , there were six "critical" violations, totaling 42 violation points. Restaurants that have more than 28 violation points are given a "C" grade, which is the lowest that city officials will give. However, the restaurant can appeal that rating before the "C" grade is officially posted on its front window, and that's exactly what the plan is.
The eatery's general manager Travis Jones tells the New York Post , "We're going to be taking it to court. So, it's bogus until November, when it's finalized. We're planning on disputing it."
The menu at Joanne Trattoria, which is an Italian eatery, was developed by celebrity Chef Art Smith , who appeared on Gaga's ABC Thanksgiving special last year.
According to The Smoking Gun , some of the violations found at Joanne Trattoria included:
--Food not protected from potential source of contamination during storage, preparation, transportation, display or service.
--Personal cleanliness inadequate. Outer garment soiled with possible contaminant. Effective hair restraint not worn in an area where food is prepared.
--Food worker does not use proper utensil to eliminate bare hand contact with food that will not receive adequate additional heat treatment.
--Food contact surface not properly washed, rinsed and sanitized after each use and following any activity when contamination may have occurred.
Copyright 2012 ABC News Radio