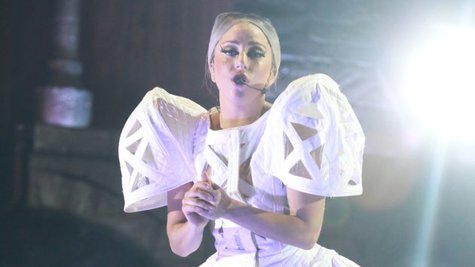 Lady Gaga is famous for some edgy onstage performances, but a gig in Barcelona Saturday night featured some apparently unplanned shocking stagecraft: the singer threw up multiple times -- and of course, it was caught on video.
Mama Monster was performing "The Edge of Glory" next to a writhing male back-up dancer when she doubled over, her back to the crowd, and vomited four times, all while continuing to dance. While it's impossible to confirm from the video that Gaga did in fact throw up, it certainly looks as if she did.
Gaga's heaving wasn't picked up on-mic, and she could be clearly heard "singing" while simultaneously throwing up, a biologically impossible feat even for a multi-talented performer who's publicly sworn off lip-synching in the past.
Justin Bieber recently blamed milk for an on-stage sick session late last month.
Copyright 2012 ABC News Radio