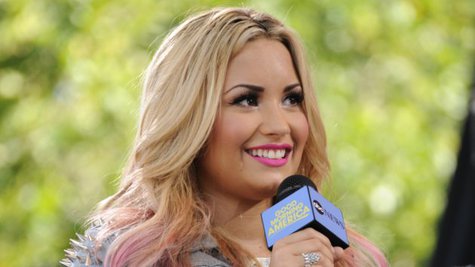 Demi Lovato has been open about her own struggles, which include a diagnosis of bipolar disorder and battles to overcome self-injury and bulimia. Now, she's showing support for someone else whose personal issues are playing out in public: Jennifer Livingston , the Wisconsin news anchor bullied by a viewer for her weight.
This past Friday, which was the first Friday of National Anti Bullying Month, Demi took to Twitter and suggested that fans check out the viral video, in which Livingston calls out a male viewer for slamming her over her appearance. In the video, Livingston makes it clear to that viewer, "You don't know me. You are not a friend of mine. You are not a part of my family.... So you know nothing about me but what you see on the outside. And I am much more than a number on the scale."
Demi wrote, "Almost everything I stand for has been said by Jennifer Livingston in the video below...Please watch this and retweet."
The X Factor judge, who has the words "Stay Strong" tattooed on her wrists, then went on to express her support for Livingston tweeting , "Jennifer... is a STRONG, BEAUTIFUL and inspiring woman."
Copyright 2012 ABC News Radio