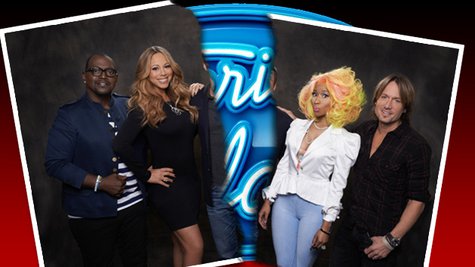 In the wake of the allegedly still-simmering feud between American Ido l judges Mariah Carey and Nicki Minaj, the show's executives have now stepped in an attempt to calm things down.
"This is one of the best, most passionate, dynamic and invested judging panels we've ever had," said a statement issued by Fox on Friday and credited to the show's producers. "We love and support all of the judges and the fantastic work they are doing, and we can't imagine a better group to find the next American Idol ."
The statement added, "Despite all the accusations and media speculation -- much of which is inaccurate -- production is going extremely well today and the judges are focused on finding the best talent here in Baton Rouge."
The beef between the diva and the rapper started when TMZ released a video that showed Nicki cursing up a storm on the Idol set, with much of the profanity being directed toward Mariah. Then, TMZ reported a rumor that Nicki had threatened to shoot Mariah, which was quickly denied by the show's executive producer, Nigel Lythgoe .
However, ABC's Barbara Walters then got into the act , saying on The View that she'd spoken with Mariah, who told her that Nicki said, within hearing range of several people, "If I had a gun, I'd shoot the bitch." Mariah also said that she'd stepped up her security as a result of the altercation.
Nicki subsequently denied the accusations on Twitter, said it was all a plot to make her look bad, slammed Mariah for airing her dirty laundry on TV and claimed the singer was jealous because the Idol producers like her better.
Copyright 2012 ABC News Radio