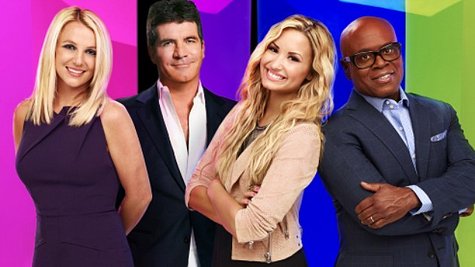 On Thursday night's edition of The X Factor , the 60 remaining acts at the Miami boot camp were separated into pairs and asked to perform a song in a head-to-head competition for judges Simon Cowell , L.A. Reid , Demi Lovato and Britney Spears .
The contestants are being whittled down to just 24 acts, but the announcement of who stays and who advances to the "judges' homes" round won't be revealed until next week's shows. The acts will be divided into four categories: Boys, Girls, Over 30s and Groups. Each category will be mentored by one of the show's judges. The grand prize is a $5 million recording contract.
Here are some of Thursday's highlights:
-- Tara Simon was paired against Jennel Garcia . The two potential divas chose Fleetwood Mac 's "Landslide," which Simon did not like, particularly for Jennel. He said it "put her out of her element."
-- Vino Alan faced roommate David Correy . Their song was Marvin Gaye 's "What's Going On." Vino appeared disappointed with his performance, slamming his hat down on stage. But Simon told the other judges that he "loved" Vino's voice.
-- Young singers Diamond White & Dinah Jane Hansen chose to sing Kelly Clarkson 's "What Doesn't Kill You." A clearly moved Britney said she loved them both.
-- Country singers Willie Jones and Tate Stevens battled it out on "Nobody Knows," by Babyface . L.A asked who picked the song. It was Tate, and the suggestion was made that he had the upper hand.
-- Season 1 reject Arin Ray took on Normarni Hamilton . There was clearly chemistry between the two, as they flirted their way through "You Don't Know You're Beautiful." by One Direction . The judges like them both. Simon said he could see Arin in a boy band.
-- Jillian Jensen was already in awe of Latasha Lee Robinson at rehearsals. The two women started to sing Sugarland' s "Stay." However, Latasha forgot her words, saying "sorry, I can't do it." Britney defended Latasha by saying that nerves probably got the better of her. Latasha was heartbroken.
-- Freddie Combs and Jessie Bryant were among several others who forgot lyrics, causing Britney to shed more tears.
-- CeCe Frey and Paige Thomas had already gone virtually head-to-head on Wednesday's show when they both sang "I Will Always Love You," in the style of Whitney Houston. This time they sang "Secrets" by One Republic , which Paige claimed was not her choice. Simon thought both women looked "exhausted." Britney liked Paige best.
The X Factor returns to Fox on Wednesday at 8:00 p.m. Eastern time.
Copyright 2012 ABC News Radio