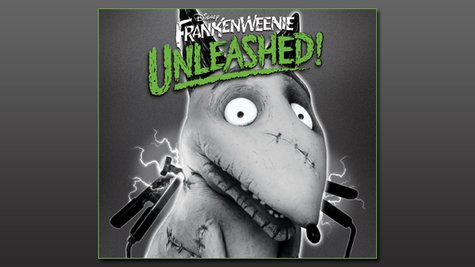 When director Tim Burton 's movie Alice in Wonderland came out, a whole bunch of artists, including Shinedown , Franz Ferdinand and Wolfmother , recorded an entire album called Almost Alice, featuring new songs that were "inspired" by the movie. Now, a similar album is in stores that goes along with Burton's new movie, Frankenweenie. It's called Frankenweenie: Unleashed!, and among the artists participating are Neon Trees , Grouplove , AWOLNATION , Imagine Dragons and Mark Foster of Foster the People .
Frankenweenie , in theaters Friday, is a full-length movie version of a stop-motion animated short Tim Burton made in 1984 about a kid named Victor who brings his dead dog back to life. The voice cast includes Winona Ryder as Elsa, a girl who is Victor's love interest. She's featured on the album as well, singing a song in character called "Praise Be New Holland."
Speaking about their involvement in the album project, Neon Trees frontman Tyler Glenn tells ABC News Radio, "We're on a CD with Winona Ryder! That's kinda weird, I didn't know she was singing, [but] that's great!"
He adds, "I saw the movie before it was done, but I saw the full thing, and I got a real nice feel for the movie." The result was a new Neon Trees song, "Electric Heart (Stay Forever)" which Tyler describes as sounding like a mix between two British alternative rock groups of the '80s: The Jesus + Mary Chain and Flesh for Lulu .
"It almost sounds like a Flesh for Lulu ripoff, so you be the judge," says Tyler, adding, "But I don't think enough fans of ours even know who that is, so it'll be alright!"
Overall, Tyler said he was psyched to be included on the album, noting, "I was a big fan of the short film, I would watch it every Halloween on the Disney Channel. I love being a part of it. I love Tim Burton, I love the gothic nature of it...[and] it's fun to write songs where you're focused on a project, and maybe not worried about it becoming a hit or anything."
Neon Trees will wrap up their tour this weekend in Las Vegas.
Copyright 2012 ABC News Radio