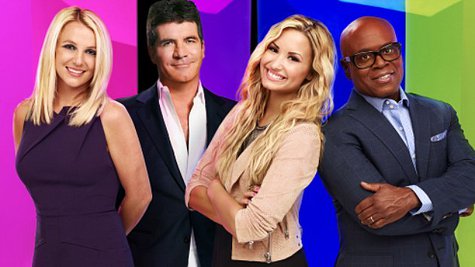 Wednesday's edition of The X Factor on Fox featured a challenging boot camp round in Miami, with half of the 120 acts, including Trevor Moran , Quatrele Smith and Jake Garza , being eliminated by the end of the show.
All of the successful contestants from the nationwide auditions performed a song of their own choice in front of their peers and judges Simon Cowell , L.A. Reid , Britney Spears and Demi Lovato.
Here are some of Wednesday's highlights:
-- First up was 13-year-old Diamond White , who followed her confident audition round performance with a solid rendition of Whitney Houston 's "I Have Nothing." Demi said she was "amazing."
-- Austin Corini , who is a hit with the young girls, sang Adele 's "Make You Feel My Love." L.A. thought Austin didn't "nail the song."
-- Jennel Garcia said she could not remember her first round audition, and felt like it had been a dream. She sang Gavin DeGraw 's "Sweeter," which seemed to please the judges.
-- Vino Allen performed "Bad Company" by Bad Company . Simon liked Vino's voice, but Britney was unsure about his hard-rock style.
-- Tara Simon strutted her way through Queen 's "Somebody to Love." Her over-the-top performance included dropping to her knees, which resulted in Tara revealing a bit more to the judges than she intended.
-- A number of female artists sang Whitney Houston' s version of "I Will Always Love You," including Paige Thomas and CeCe Frey , who followed each other. Simon said that "one of them nailed it," but did not reveal which one.
The contestants were divided into three groups to learn their fate. The first group, which included Diamond White, Jennel Garcia and Gene Simmons ' daughter, Sophie , was declared safe. The second group, which included Trevor Moran, Quatrele Smith, Jake Garza and Jessica Espinosa , was sent home. The third group, which included Vino Allen, Freddie Combs and CeCe Frey, made it through to the next round.
The X Factor returns on Thursday at 8:00 p.m. Eastern time.
Copyright 2012 ABC News Radio