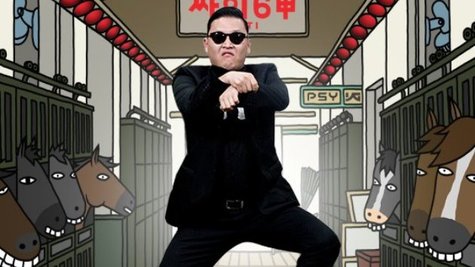 South Korean rapper Psy's viral hit "Gangnam Style" may be super hot, but it still hasn't been able to overtake the hotness that is Adam Levine . Once again, Psy's single has been kept out of the #1 spot on the Billboard Hot 100 chart by Maroon 5's "One More Night." It's their third week at #1.
Psy may have had to settle for #2 yet again, but the race between him and Maroon 5 is still very close. More radio stations are playing "One More Night," but more people are downloading "Gangnam Style." Over the past week, "Gangnam Style" has sold 294,000 copies, according to Nielsen Soundscan, while "One More Night" has sold 181,000 copies.
However, the real news on the chart this week is the ladies. "Begin Again," a new track from Taylor Swift's forthcoming disc, Red , has debuted at #7 on the Hot 100. That's the highest entry by a woman since Katy Perry's "Part of Me" blasted in at #1 back in March.
Ke$ha's new single "Die Young" enters at #13, and Rihanna's new single, "Diamonds," is in at #16. That ties Ri-Ri's previous best chart debut as a lead act; "We Found Love" also entered at #16 a year ago.
Copyright 2012 ABC News Radio