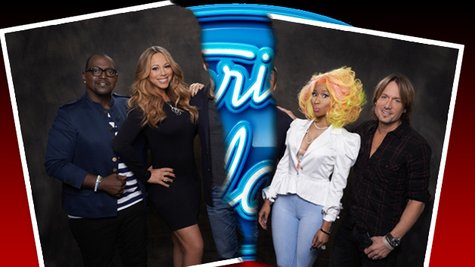 Now that a TMZ video of American Idol judge Nicki Minaj cursing up a storm -- apparently at fellow judge Mariah Carey -- has gone viral, the show's head honcho has been forced to do damage control to quash an even worse PR disaster: a rumor that Nicki made a death threat against Mariah.
TMZ initially reported that according to a "source," Nicki was so angry at Mariah that she said something along the lines of "If I had a gun, I would shoot her." TMZ also claims that 11 seconds into its video , Nicki can be heard saying "Off with her head! Off with her head!" But American Idol executive producer Nigel Lythgoe says that report is more off-key than the show's hapless contestants.
In a statement to TMZ , Lythgoe says, "The statement [that Nicki made a death threat] is absolute rubbish. It's absolutely not true in any way, shape or form." Lythgoe also told TMZ that Mariah actually confronted Nicki Wednesday morning and asked her if she'd made the threat and Nicki denied it.
Meanwhile, Mariah's husband Nick Cannon has weighed in the altercation, telling Access Hollywood , "My wife is the strongest and classiest woman that I've ever met. If you watch the video, she just maintains her composure… I don't think she's moved by the theatrics and pageantry of it all. She signed up to do a job to help young people… this is like a sidebar."
Copyright 2012 ABC News Radio