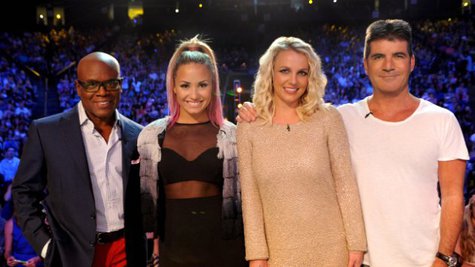 Paige Thomas and Vino Alan left The X Factor during Thursday's live results show. Paige, representing the Young Adults category, mentored by Demi Lovato , failed to get enough of America's votes to advance. Paige said that she was looking forward to going home to work on "bigger and better things."
Vino, from the Over 25s category, coached by L.A. Reid , was involved in a sing-off with Diamond White , representing Britney Spears ' Teens category, and was given the boot by the judges. Vino said he was sad that America didn't get to hear the best from him, and vowed to carry on making music.
Diamond sang Beyonce 's "I Was Here," and Vino performed a version of Ray LaMontagne 's "Trouble." L.A. stuck by his man and voted to send Diamond home. Britney supported her contestant Diamond and voted to send home Vino. Demi elected to eject Vino. Simon's casting vote to eject Vino sealed his fate.
It was announced at the close of the show that 13-year-old Carly Rose Sonenclar topped the weekly leader board, followed by country singer Tate Stevens and boy trio Emblem3 . Diamond was, of course, placed last.
There was a special performance by Alicia Keys , who sang her hit "Girl on Fire." Season-one runner-up Josh Krajcik returned to perform "One Thing She'll Never Know."
The acts making up the Top 6, who will compete next week for America's votes, are:
--Teens/Britney Spears: Diamond White, Carly Rose Sonenclar
--Young Adults/Demi Lovato: CeCe Frey
--Over 25s/L.A. Reid: Tate Stevens
--Groups/Simon Cowell: Emblem3, Fifth Harmony
The X Factor returns to Fox on Wednesday at 8:00 p.m. Eastern time.
Copyright 2012 ABC News Radio