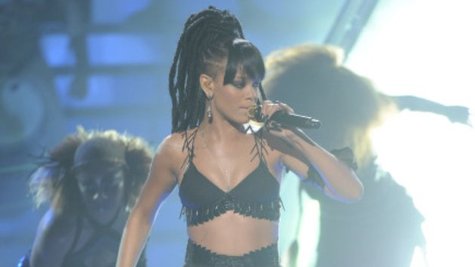 Sure, Rihanna , Katy Perry , Lady Gaga , Adele and Beyonce are all superstar pop artists who've sold millions of albums. But when it comes to overall earnings, their bank accounts are overshadowed by those of classic rockers...and one iconic hip-hop artist.
Looking at Forbes' list of the highest-paid musicians for 2012, which tallies how much stars made from May of 2011 to May of 2012, it's surprising that all five of those women didn't even make the top 10. The #1 earning artist on the list is reclusive hip-hop star and producer Dr. Dre , who took in a whopping $110 million during that period. He hasn't released an album in years, but he rakes in the cash from his Beats by Dr. Dre line of headphones, as well as sales of his old albums and production fees.
Coming in at #2 on Forbes' list is Pink Floyd legend Roger Waters , and Elton John 's #3, followed by U2 at #4. Bon Jovi is #6. Finally, at #7, a female pop superstar makes an appearance: Britney Spears , who earned $58 million. Taylor Swift follows with a haul of $57 million, but she's tied with Beatles legend Paul McCartney . Justin Bieber 's in at #10 with earnings of $55 million.
Moving out of the top 10, Rihanna makes her appearance at #12, with $53 million, and Lady Gaga 's right behind with $52 million. Katy Perry 's farther down at #15, with earnings of $45 million, and Beyonce trails her with $40 million -- though she, of course, was taken out of action for several months this past year thanks to the birth of her daughter, Blue Ivy .
Looking at the rest of the list, Beyonce's man Jay-Z is in at #20 with a relatively paltry $38 million, and his buddies Coldplay are right behind with $37 million. Fellow Brit Adele checks in at #22 with $35 million -- the same amount that Kanye West earned. Michael Buble and Sade round out the list, with $34 million and $33 million, respectively.
To prepare the list, Forbes took into account record sales, touring, endorsements and merchandise sales, and then subtracted management fees, legal costs and taxes.
Copyright 2012 ABC News Radio