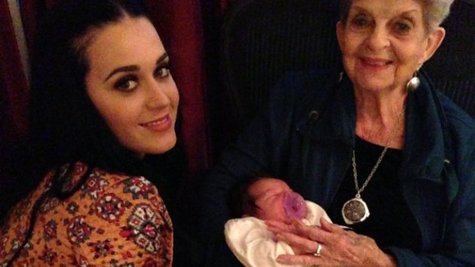 Katy Perry stepped out in New York City earlier this week at UNICEF's Snowflake Ball, and she says the organization's mission -- helping children all around the world -- is really hitting home for her. Why? Because there's a new baby in the family. Not hers, of course, but still.
"It's all about children, and you know what? I'm also excited I have a new niece in our family," Perry told Vanity Fair magazine. "And she's brand new, like a week old, and she needs a lot of attention. So I can imagine what's going on in other countries that don't have the facilities or the education or all those things."
She adds, "I'm seeing it kind of firsthand, 'cause it's the first time [we've had a new baby] in 24 years in my family, so this is making some personal sense to me."
Over Thanksgiving, Katy had posted a photo of the new baby, Kai , being held by her grandmother. Previously, the singer had revealed that the baby is actually her cousin's, which means she's not actually little Kai's aunt; she's her cousin once removed. But hey, we're not going to be the ones to tell her she can't call herself "Aunt Katy."
Copyright 2012 ABC News Radio