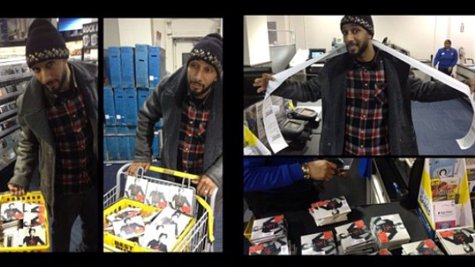 Get this: when Alicia Keys ' Girl on Fire album arrived in stores Tuesday, one of her biggest fans purchased not one, not two, but 150 copies of the disc! That fan was Alicia's hubby, Swizz Beatz , who took to Instagram to show off his mile-long Best Buy receipt.
"Ok I might get STAN of the year award..." Swizz captioned a set of pictures, capturing his shopping adventure. "So What... I just got 150 copy's to give out 2 the fans... #GOF"
One snapshot shows Swizz pushing a cart that was filled to the top with stacks of the Girl on Fire set. He even had to put a few dozen copies in a yellow handbasket.
Swizz was on hand Tuesday night, during Alicia's album release party in New York City. Keys will be heading to Europe next month to promote her fifth studio album. "Ready 2 set UK & Europe on fiyah with my new tour! Can't wait 2 perform for u all!!" she tweeted, sharing a link for her upcoming show dates.
Copyright 2012 ABC News Radio