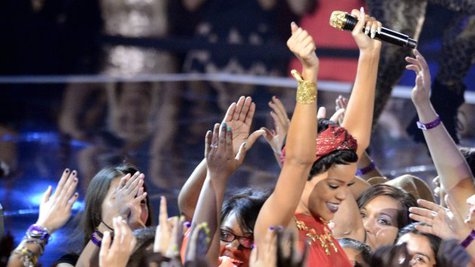 Jetting with Rihanna from show to show on her 777 tour wasn't as much of a dream as some of the 200 journalists traveling with her thought it would be. Reporters and bloggers complained about delayed flights and concert times, and not seeing much of Rih aboard their shared Boeing 777 jet, but Rihanna stands by the trip, telling the BBC 's Radio 1 Breakfast Show that the trip was "fun but exhausting."
"It was different having to do your job but also have 200 guests come along with you," Rih tells BBC. "They all want you to host a party every time you get on the plane after a show but you really only have that time to sleep until you get to the next country."
Despite chants from the press corp calling for Rihanna to hang out in their section of the jet, Rihanna never appeared. She stayed holed away, even after an Australian DJ streaked nude through the aircraft.
Addressing her absence, Rihanna says that she wanted to give more time to her guests, but she had to use her time "wisely," catching z's on the rare occasion that she had the opportunity. "I knew I had seven countries and seven shows and I had to save my voice," she tells the BBC. "I didn't go crazy. I didn't party too hard."
The 777 tour took Rihanna through seven countries in seven days. The non-stop trip took her and her guests to Mexico City, Toronto, Stockholm, Paris, Berlin, London and New York.
Copyright 2012 ABC News Radio