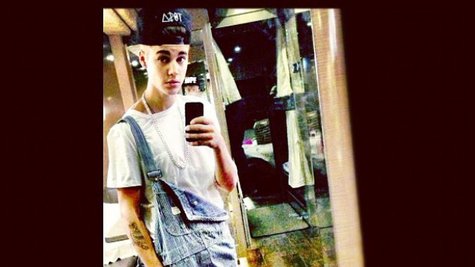 Justin Bieber came under some heavy fire online after he accept an award from Canadian prime minister Stephen Harper while wearing a backwards baseball cap and overalls. Many criticized the singer for being disrespectful, saying he should have dressed better for the occasion, while the website Gawker branded him a "white trash prince." Now, Justin is defending himself.
After a British tabloid took The Bieb to task for his fashion choice, reprinting the "white trash prince" comment, Justin responded via Instagram, calling out Hayley Peterson, the woman who wrote the article.
"The pic of me and the Prime Minister was taken in a room in the arena where i was performing at that day," he explained. "I walked straight from my meet and greet to him, if you 'Hayley' expect me to have a change of clothes let [alone] a suit at that specific time that's crazy,"
He added, "It wasn't like it was like I was going into his environment we were at a hockey arena. Wow am i ever white trash hayley peterson lol."
Justin faced even more criticism on Sunday during his performance at halftime during the Grey Cup, which is Canada's version of the Super Bowl. According to the Calgary Herald , the singer was booed non-stop, from the first appearance of his face on the JumboTron, to the first mention of his name of the beginning of the performance, through his performance to the end of his set. Justin didn't seem ruffled, however, saying, "Thank you so much, Canada, I love you!"
Copyright 2012 ABC News Radio