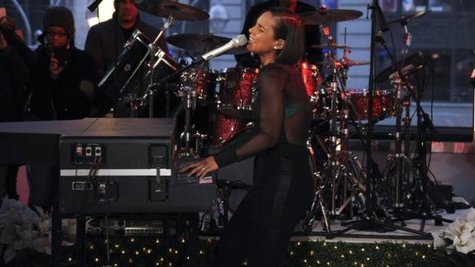 It's been three years since Alicia Keys put out an album, but she's been busy with other things: getting married to producer Swizz Beatz ; expanding her Keep a Child Alive charity, which helps families in Africa and India affected by HIV/AIDS; and becoming a mom to two-year-old son Egypt . But Alicia says motherhood has affected her music the most, and you can hear the change in her new album, Girl on Fire.
Appearing on Monday's Good Morning America , Alicia said, "Becoming a mother has absolutely given me a confidence that I never could've known before. ...Egypt has absolutely opened my mind and my eyes and my spirit and my heart to so many emotions and things I never could've accessed before. So that's why I'm able to find an even better, more beautiful place to write from and to create from."
"Everything I do after [this album] will continue to get better, but this is surely the best place I've ever been in," Alicia continued. "And creatively, I've definitely found a place to go to new spaces."
Alicia is also readying two benefit concerts in New York City. The first is 12.12.12: The Concert for Sandy Relief, where she'll share a bill with Kanye West , Paul McCartney , Billy Joel , Jon Bon Jovi and Bruce Springsteen , among others. After that comes The Black Ball 2012, which benefits her Keep a Child Alive organization.
"This is my city -- New York City -- and what we went through recently was very difficult for so many," Alicia said on GMA, referring to Hurricane Sandy. "My other organization is Keep a Child Alive, and it makes me realize how much we should understand each other and how no one deserves to suffer."
Alicia's original Black Ball had been scheduled to take place November 1, but it was canceled in Sandy's wake. The new date is December 6 at New York's famed Apollo Theater. The original lineup was to include Beyonce, alt-rockers Alabama Shakes and Rock and Roll Hall of Famer Carole King . It's not clear who'll be at the rescheduled show.
Alicia's new album, Girl on Fire , hits shelves Tuesday.
Copyright 2012 ABC News Radio