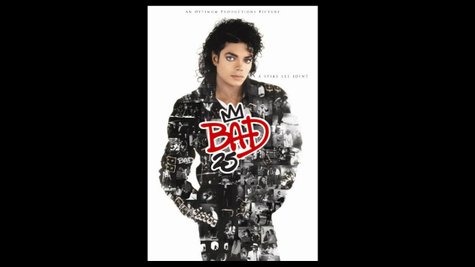 Michael J ackson: Bad25, a documentary about the making of Michael Jackson 's landmark 1987 album Bad, airs on ABC Thanksgiving night. The in-depth film was directed by Spike Lee , who traces the King of Pop's creative process as he followed up from the success of his 1982 album Thriller .
Spike first worked with Michael more than a decade and a half ago, directing the 1996 music video "They Don't Really Care About Us." "When I got that phone call and he was on the other line I hung up because I thought it was an impersonator," Spike tells ABC News Radio. "It was really a big moment in my life when Michael Jackson called me on my phone to do a music video."
Michael asked Spike to come to California to hear his song, but the new dad had just welcomed his first child home, and couldn't make the trip. That didn't stop Michael, though. "He came to Fort Greene, Brooklyn, to my house, my brownstone, to play the songs," Spike says.
Michael had a passion for his craft, and Michael Jackson: Bad25 shines a light on that passion. In one scene, viewers will see footage of Michael in November 1986, working on the choreography for the Martin Scorsese -directed "Bad" music video in his hotel room with choreographers Caszper Canidate and Jeffrey Daniel .
In the clip, Jeffrey talks about how the three of them developed the iconic dance sequence in the "Bad" video. He says that he and Caszper would work with Michael's dancers in the daytime, then the trio would meet back at the hotel, and work together until the wee hours of the morning.
"We'd take turns creating different things, making different things happen," Jeffrey says. Each of the guys would get their turn, "but it wasn't like a dance-off," he says. Instead, the the three of them were "inspiring each other and pushing each other to the next limit," Jeffrey says.
Jeffrey is one of several people who share their behind-the-scenes stories from the making of Michael's Bad album. Siedah Garrett is another contributor who appears in Michael Jackson: Bad25 . The singer and songwriter sang on "I Just Can't Stop Loving You," and co-wrote "Man in the Mirror."
In an interview with ABC News Radio, she recalls joined Michael in the studio to record her part on the track, and remembers that he admired her work on the song.
"So, Michael follows me into the booth and he starts filming me and I remember asking him, 'Why are you doing this?'" Siedah tells ABC News Radio. "He said, 'Because you have so much emotion and I just love the way you sing it and I wanna sing it like you,' and I remember telling him, 'Great, Mike. All my friends are really gonna believe me when I tell 'em "He wants to sing it like me!""
Bad was the first album on which nearly all of the songs were written by Michael. He co-wrote nine of the album's 11 tracks, and was listed as a co-producer for the entire project. "He might not be able to play the guitar riff in 'Beat It,' or 'Billie Jean,' but he can sing it to the guitar player and he'll get the feel that we wants," Siedah recalls. "He had a human beatbox in his body that was ridiculous ."
She says that Michael was always looking to improve. "Like athletes, they love to watch themselves on tape and then better their game. He was just like that. He wanted to better himself at every turn," she says.
In addition to interviews with Michael's collaborators, Spike also did one-on-one interviews with the King of Pop's famous fans. The list includes Mariah Carey , Cee Lo Green and Kanye West , among others.
Michael Jackson: Bad25 airs on ABC Thursday night at 9:30 p.m. Eastern time.
Copyright 2012 ABC News Radio