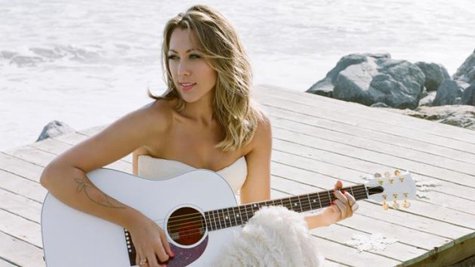 Colbie Caillat 's a California girl, but this Thanksgiving, she'll be in New York City, performing in Macy's famed Thanksgiving Day Parade. "I'm really excited to finally be in the parade, watching it like everyone does every year, and to be in New York in the holiday season -- it's so beautiful there. I'm really looking forward to it," she tells ABC News Radio.
As for what Colbie will be doing in the parade, she says she'll be promoting her new holiday album by singing its title track. "I'm singing my song, 'Christmas in the Sand,'" she says, "And I forget what float I'm on, but I know I'm gonna be behind... Ronald McDonald or something like that. So, that's what I'll be looking at for a couple hours!"
One drawback of taking part in the festivities, Colbie says, is not being able to celebrate Thanksgiving with her family back in California. "Family is so important to me..immediately after the parade, I'm getting on a plane and I'm flying home. I should be home around 7 p.m. on Thanksgiving," she says. But since that's kinda late, Colbie says that her family has agreed to moving Thanksgiving to Friday so they can all celebrate together.
As for what Colbie will be chowing down on this year, it won't be turkey. "I'm vegetarian so I don't eat the turkey but we make veggie turkey and veggie gravy and it's all delicious," she laughs.
In addition to the human members of her family, Colbie is looking forward to spending the holiday with her dogs, who she's adopted or rescued. In fact, she says they're among the things she's most thankful for, and wants others to know that joy as well.
"I know a lot of people are looking to purchase animals for the holiday season but if people, first, would go to animal shelters and see about adopting," she suggests. "We've adopted amazing animals over the years...so, that's what I'm really grateful for, and thankful for every time I come home from tour. I have my wonderful family, friends and cute, adorable pets to look forward to spending time with."

Colbie is expected to do a brief holiday tour before winding things down for the year. The Macy's Thanksgiving Day Parade steps off at 9 a.m. on NBC in all time zones.
Copyright 2012 ABC News Radio