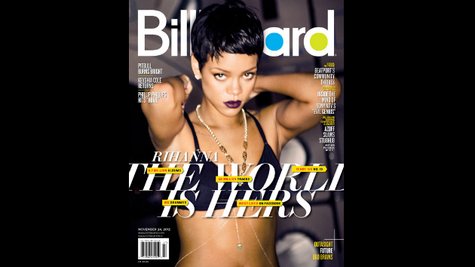 Rihanna's Unapologetic came out this week, and the singer's droves of Facebook and Twitter fans seem to approve, but the question remains: Will the disc reach #1 on the Billboard album chart? It's the one achievement has eluded the star's grasp, as Billboard points out in its new issue with Rihanna herself on the cover.
Rihanna has sold a whopping 8.7 million albums in the U.S. since her 2005 debut, as well as a mind-blowing number of downloads, and has just scored her 12th #1 hit with "Diamonds." But the highest any of her albums have gotten have been #2, with 2007's Good Girl Gone Bad. Still, she and her record company aren't sweating it.
"It'd be great if she gets one, but she's broken every other record out there, just about," an executive from her label tells Billboard . "The process is to make good music, and when you make good music, everything plays itself out...It's about the marathon, not the sprint."
For now, Rihanna's team is figuring out what her second single will be. Another executive tells Billboard that "Nobodies Business," Rihanna's duet with former boyfriend Chris Brown , could be the one, but they'd like to hear from the fans as well. As for the controversy over the singer's continued collaborations with Chris, the president of her label tells Billboard , "Ultimately Rihanna drives her creative vision...She's been very vocal about where she stands and where she feels."
Copyright 2012 ABC News Radio