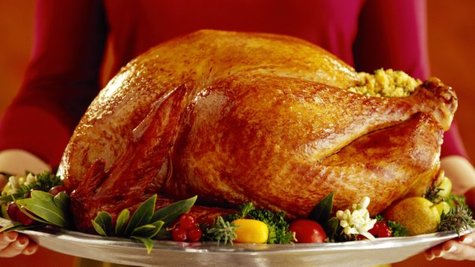 Some stars are lucky enough to be home for Thanksgiving this year, while others have to work. But either way, they're all thankful for the many blessings that their careers have brought them. Here's a roundup:
--It's been a great year for Maroon 5 , as Adam Levine 's exposure on The Voice keeps the band top of mind. In fact, they've scored the biggest hit of their career this year with "One More Night." That's why guitarist James Valentine gives thanks to the band's loyal fans for all their support.
"I'm most thankful for the fans, of course," he tells ABC News Radio. "We feel so blessed that 12 years into this, that we're still able to do this and that people are still excited about the music, so...we thank our lucky stars every day for that."
--Taylor Swift , the hardest-working woman in showbiz, will be away from home for Thanksgiving this year -- far, far away. Like, Tokyo, Japan. "It's gonna be interesting trying to find turkey there," she says, but shrugs it off, adding, "It's like, that's kinda how my life goes. I'm just like, 'You know, wherever I'm gonna be I'm gonna be.' And I know that when I am putting out a record all bets are off."
Of course, being away from home doesn't mean Taylor can't give thanks for those who are the most important to her. "I'm most thankful for my family, and the fact that we're so close and the fact that we're all healthy. To me, that's the most important thing. If I have that, I'm OK," she tells ABC News Radio.
--The band fun. had an amazing year thanks to their smash hit "We Are Young" -- it was #1 for six weeks straight. It was the band's first real success, even though they've been around since 2008, and singer Nate Ruess says it's the support he received during the lean years that he's most grateful for this year.
"I am most thankful for the people who have believed in me and us from the get-go," he tells ABC News Radio. "Our parents have been the type of people who have supported us from the beginning and I think we're all just so thankful that they've been there from the beginning because they have been the people that have kept us constantly believing that we can achieve anything."
-- Neon Trees is another band that had a great year, with their single "Everybody Talks" going double platinum and becoming their biggest chart hit. In addition, drummer Elaine Bradley became a first-time mom. But it's what the band plans to do on Thanksgiving Day that they're truly grateful for.
Lead singer Tyler Glenn tells ABC News Radio, "[We're] thankful for each other, I think, most of all. But we're thankful that we get to ride on the Ninja Turtle float in the Macy's day parade and perform our song, 'Everybody Talks!'"
Copyright 2012 ABC News Radio