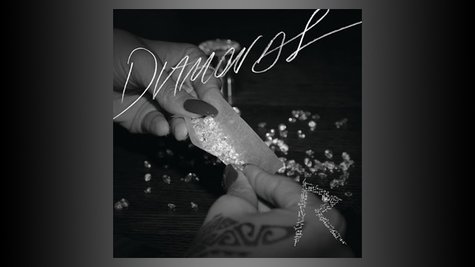 Maroon 5's "One More Night" couldn't pull out one more week at #1. After nine weeks, "One More Night" has now been replaced on top of the Billboard Hot 100 by Rihanna's "Diamonds." And with that, Rihanna makes some chart history.
"Diamonds" is Rihanna's 12th #1 hit, and that puts her in some pretty rarefied company -- she's now tied with Madonna and the Supremes when it comes to chart-topping singles. In Billboard chart history, only The Beatles , Mariah Carey and Michael Jackson have had more #1s than these three female acts, with 20, 18 and 13, respectively.
In addition, Rihanna has now passed Mariah Carey as the female artist who reached the milestone of 12 #1 hits the fastest. She did it in six years and seven months, while Mariah took seven years, one month and two weeks to rack up hers.
Among all artists, only The Beatles and The Supremes have scored 12 #1 hits in a shorter time than Rihanna did. The Beatles did it in two years, four months and three weeks; the Supremes took five years and four months.
Ironically, Rihanna has yet to score a #1 album on the Billboard chart, but her new disc, Unapologetic, could do the trick.
Here's a list of all Rihanna's #1 hits:
2006, "SOS"
2007," Umbrella," featuring Jay-Z
2008, "Take a Bow"
2008, "Disturbia"
2008, "Live Your Life" (T.I. featuring Rihanna)
2010, "Rude Boy"
2010, "Love the Way You Lie" (Eminem featuring Rihanna)
2010, "What's My Name?," featuring Drake
2010, "Only Girl (In the World)"
2011, "S&M," featuring Britney Spears
2011, "We Found Love," featuring Calvin Harris
2012, "Diamonds"
Copyright 2012 ABC News Radio