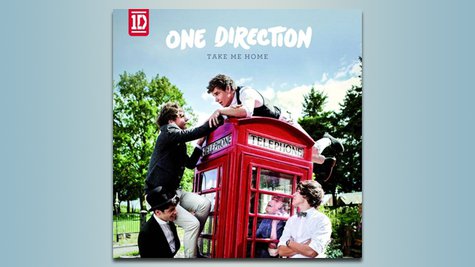 Most artists are lucky to get one #1 album in their entire career, but One Direction has just scored their second chart-topping disc of the last 12 months. The British boy band's new album Take Me Home arrives at #1 on the Billboard album chart with first-week sales of over 540,000 copies, according to Nielsen Soundscan.
Earlier this year, the group's first U.S. release album, Up All Night , also debuted at #1 back in March, a first for a British band's debut album. One Direction is now the first group to debut at #1 with their first two albums since Danity Kane -- remember them? -- did it 2006 and 2008.
In addition, Take Me Home had the third-biggest debut sales week of the year, after Taylor Swift's Red and Mumford & Sons' Babel.
Amazingly, though, One Direction is not the first act this year to score two #1 albums within a 12 month period. Justin Bieber did it with his Christmas album Under the Mistletoe , followed eight months later by Believe in July.
Up next for 1D: a December 3 sold-out show at New York's Madison Square Garden and an appearance on Barbara Walters Presents: The 10 Most Fascinating People of 2012, airing December 12 on ABC.
Copyright 2012 ABC News Radio