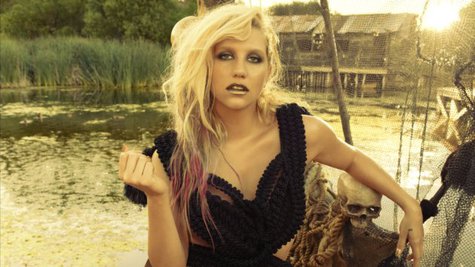 Having sex with ghosts. Bathing in glitter. Wearing clothes made of her fans' teeth. That's just an average day in the life of Ke$ha , according to a new interview with Time.com .
Ever since Ke$ha said that in a previous interview that one song on her new album Warrior was about that time she had sex with a ghost, she's had to explain herself. Speaking to Time , the singer says, "I definitely lived in a house that had a ghost in it. And there was sexual energy in the air....it was kind of like a flophouse, all the people that lived there. I moved in when I was pretty broke, and there was just this weird energy there that I was drawn to."
So, what was it like doing the nasty with a visitor from the spirit world? "Very spooky," she says.
As for the glitter, Ke$ha claims that when she's on tour, her list of backstage demands includes a bathtub full of the stuff. "That's how I get ready for my show," she tells Time . "I cover my body in baby oil and sit in a bathtub full of glitter, cause it's just the easiest way to get it all over your body."
On tour, the singer says, she goes through "a hundred gallons" of glitter, adding, "There's an entire semi truck that's just a glitter semi. And I have a roadie...he's just the glitter roadie. " We're not sure she's entirely serious about that one, though, since she followed it up by saying, "H e's amazing. He knows everything about glitter. He's very well informed."
As for the teeth, Ke$ha fans know that she asked them a while back via Twitter to send her their teeth, so she could make a headdress out of them. But the response, she tells Time , was overwhelming. "My fans have sent me about over a thousand human teeth, that I'm making different accessories and clothing out of," she says. "I've gotten so many that now I've made, like, necklaces and earrings and a headdress and a bra."
Asked if fans actually pulled their teeth out in order to send them to her, Ke$ha says, "I think most of them are just teeth that have naturally fallen out, but a couple of them have given me bloody teeth. It's a little sketchy, but I love it."
Ke$ha's new album Warrior is out next month.
Copyright 2012 ABC News Radio