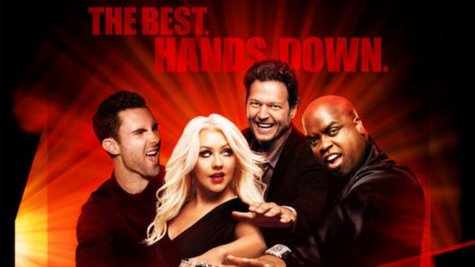 On Monday's episode of The Voice , the top 10 singers performed in front of a live audience in the hope of securing enough of America's votes to stay in the contest. Judges Cee Lo Green and Blake Shelton were both moved to tears by some of their acts.
On Tuesday's results show, two more vocalists will be eliminated, and no judge is guaranteed a spot for one of their acts in the finals.
This season, if any artist's song is featured in the iTunes Top 10 by the end of voting on finals night, that artist's iTunes votes will be multiplied by 10, which could give them a big advantage.
The acts representing each coach/mentor are:
Adam Levine : Bryan Keith , Amanda Brown , Melanie Martinez
Christina Aguilera : Sylvia Yocoub , Dez Duron
Cee Lo Green: Nicholas David , Trevin Hunte , Cody Belew
Blake Shelton: Cassadee Pope , Terry McDermott
Several celebrity mentors were featured Monday, including singer/actress Jennifer Hudson , producer/song writer Ron Fair and country music producer, Scott Hendrix .
There was a live performance by Christina, who was joined by Blake for a run through of "Just a Fool," from Christina's album Lotus .
Here are some of Monday's highlights:
Team Christina:
-- Former pre-law student, Sylvia Yacoub was helped by Ron Fair, who was Christina's own real-life coach and mentor. Sylvia sang the Alicia Key's song "Girl On Fire." Cee Lo liked the song choice and noted Sylvia was becoming increasingly confident. Adam called the performance polished and refined. Christina told Sylvia "you took this home" and "you blew me away."
-- Ex-Yale football player Dez Duron acknowledged the helpful assistance from Ron Fair. He took on the powerful "Feeling Good," by Nina Simone . Cee Lo loved the performance. Blake was glad Dez had figured out where he fits musically. Christina was pleased that Dez had "dug so deep."
Team Blake:
-- Scottish rocker Terry McDermott was given some extra coaching by Scott Hendrix, who is Blake's producer. He sang "Summer of 69," by Bryan Adams . Christina thought Terry was "spot on." Cee Lo is a fan and wants to hear Terry's own music. Blake said that Terry reminds him of everything he loves about rock and roll.
-- Cassadee Pope was pleased to have Scott Hendrix as an extra mentor. She was tasked with singing the Miranda Lambert song "Over You," which is very personal to Blake, as it tells the story of his late brother, who died when Blake was a teenager. Blake co-wrote the song with Miranda, who is his wife. Christina felt the emotion of the performance. Cee Lo called it a "big moment." A teary-eyed Blake paid Cassadee the compliment that it felt like he was hearing the song "for the first time."
Team Adam:
-- Melanie Martinez is still shocked at being in the Top 10. She's the youngest contestant still standing this season. She performed a typically quirky version of The White Stripes "Seven Nation Army." Blake liked the fact that Melanie accompanied herself on the guitar. Christina thought the song choice was "cool" and appreciated the variety in her performances. Adam was proud of his student and called the rendition "amazing."
-- New York rocker Bryan Keith brought some hometown flavor to his act with a rendition of Billy Joel 's "New York State of Mind." He had in mind the victims of Hurricane Sandy. Blake was reminded of Michael Buble by Bryan's performances. Christina thought the song choice was perfect. Adam said Bryan did the song justice and "kicked its booty."
-- Amanda Brown is a former backup vocalist for Adele . She sang "Stars," by Grace Potter and the Nocturnals . She admitted that it was a risk to sing such a personal and intimate song. Blake was hearing the song for the first time and was glad for that. Cee Lo was impressed by Amanda and would be happy if she won the entire contest. Adam acknowledged the risk performing a song, which is relatively unknown, but added, "we did our job."
Team Cee Lo:
-- Cody Belew had some bonus coaching help from Jennifer Hudson as he rehearsed "Crazy in Love," by Beyonce . Adam called Cody "awesome" and liked his interaction with the crowd. Blake enjoyed the song and said he was "confused, but in a good way." Cee Lo thought it was good that Cody was comfortable being himself.
-- Minnesota soul-man, Nicholas David, was pleased to receive some extra coaching by Cee Lo's guest mentor. When he met her, he exclaimed, "Holy buckets, that's Jennifer Hudson." Nicholas chose to sing Bill Withers ' "Lean on Me," and played the piano on the show for the first time, joined by a gospel choir. Adam loved the ambition of Nicholas' song choices. Blake said this could be one of the best editions of The Voice yet. Cee Lo heard "the voice of a generation," and held back tears as he said Nicholas' music brought to mind his late minister-father.
-- Trevin Hunte wanted to show another side to his performances and sought counsel from Jennifer Hudson. Switching from his usual ballads to a more fun side, he chose to sing "Scream," by Usher . Adam thought Trevin "could sing anything and make it sound good." Christina said this was her favorite moment from Trevin. Cee Lo was glad he trusted Trevin's song choice.
The Voice returns to NBC on Tuesday at 8:00 p.m. Eastern time.
Copyright 2012 ABC News Radio