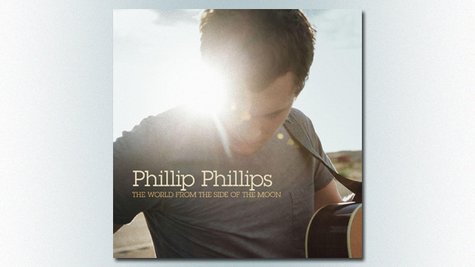 Phillip Phillips was crowned American Idol champ back in May, but now folks finally get to hear what he can do musically. His debut album, The World from the Side of the Moon , is in stores now, and he wrote or co-wrote nearly every song on the project.
Phillip tells ABC News Radio that unlike some past Idol winners, he was encouraged by Jimmy Iovine and his record company to write as much original material as he wanted for his album. "They wanted me to make the album that represents me," he says. "So I really appreciated that, coming from them, and to have that trust in me -- that was really awesome to hear that."
He adds, "But it was also a little nerve-wracking, because it's, you know, my first album!" But Phillip says he's proud of the results, laughing, "You know, it really does come from the heart and...I poured out all I could for this!"
It's amazing the album even got done, considering that by the time the American Idol tour wrapped up, Phillip had just three weeks to record it. "It was definitely hard," Phillip recalls, "Me and my producer, we would come in and, you know, some days, we'd both just be worn down but we would have to tell each other, you know, 'We're gonna get this done.'"
Ironically, Phillip says the album turned out better because of the deadline. "You don't over-analyze and don't think too much about lyrics or musical parts," he explains, "You just kinda do it 'cause you don't have much time. So, I think it helped out."
It's safe to say that if you like Phillip's hit "Home," you'll enjoy The World from the Side of the Moon . As for "Home," it's now taken on yet another life -- it's been used to soundtrack the footage of the aftermath of Hurricane Sandy. Phillip has performed the song at two benefit concerts for Sandy relief so far, and he tells ABC News Radio, "Man, it's just, it's a blessing, and I'm so glad that I can help them [with] what helps me: music."
He adds, "I've heard so many amazing stories, some sad ones, but also how it's helped 'em through life situations....it's just amazing 'cause I never even thought anything like this would happen with this song. So, it's crazy."
Phillip's promotion schedule for the new album means that he won't be able to make it back home to Georgia for Thanksgiving, so he says he'll be missing his favorite foods: turkey with dressing, collard greens and butter beans. However, he'll still has plenty to be thankful for.
"I mean, I'm so thankful for this whole past year," Phillip tells ABC News Radio. "And 'Home,' you know, it was used in the Olympics... friends, my family, my girlfriend. It's been a crazy, crazy, busy year. So, it's, I'm just thankful for everything."
Copyright 2012 ABC News Radio