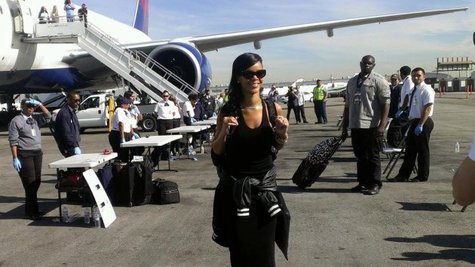 Rihanna 's seventh studio album Unapologetic arrives in stores worldwide Monday. And to celebrate the release, Rih will rock the stage Monday night with a show in London that will stream live from Jay-Z 's Life + Times YouTube channel at 5 p.m. E.T.
The concert will mark show #6 on Rih's 777 tour, which kicked off last week in Mexico City, and is scheduled to wrap-up with a seventh show in New York City on Tuesday. As you know, Rihanna's been flying around on a Boeing 777, joined by a huge entourage of reporters and bloggers, as well as some die-hard fans.
According to tweets from the journalists on board, the initial excitement over goodie bags and getting somewhat close to Rihanna has worn off. The singer hasn't exactly been hobnobbing with the regular folk, and the masses are growing weary from their jam-packed schedule which includes almost no time to sight-see or even sleep horizontally.
Cabin-fever reportedly turned to mayhem on the flight to London, with rows of writers calling for "Just One Quote!" from Rihanna, who's been hidden away at the front of the aircraft.
Fuse captured video of the rowdy crowd, which included an Australian journalist, who ran stark naked down an aisle to the delight of his peers. Despite everyone's efforts, Rih never surfaced. Instead, a Def Jam rep emerged from first-class and told everyone to simmer down, which they did.
Copyright 2012 ABC News Radio