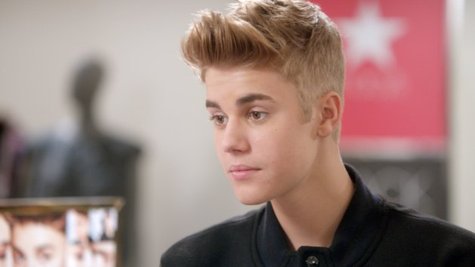 Just one look from Justin Bieber causes unsuspecting folks everywhere to faint dead away. At least, that's what happens in the new Macy's Black Friday commercial starring The Bieb, which will officially premiere on TV on Tuesday.
In the spot, Justin reminds two Macy's employees -- store manager Harold and merchandiser Carolina -- that it's almost midnight, and Macy's Black Friday sale is just about to get underway. But Harold's concerned. "Do you think you can avoid the 'wink nod smile'?" he asks the singer. "C'mon, everybody loves the 'wink nod smile,' bro!" Justin replies. "Well, do you remember last year?" asks Carolina. Flashback as Justin remembers winking, nodding and smiling at shoppers, who all promptly faint dead away. "It was kinda problematic," Harold reminds Justin.
At that moment, Justin starts rubbing his eye. "I just have something in my eye," he says. "Got it!" Unfortunately, as he winks to clear the obstruction, Carolina and Harold faint dead away.
For every purchase of Justin's fragrance Girlfriend at Macy's during Black Friday, Macy's will donate two dollars to Make-A-Wish. You'll also get a quilted heart bag free with any purchase of a large spray bottle of the perfume.
Copyright 2012 ABC News Radio