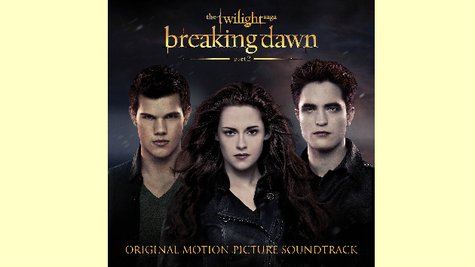 Christina Perri 's not only a singer/songwriter, she's a dedicated Twi-hard who was thrilled beyond belief that her song "A Thousand Years" was featured in Breaking Dawn -- Part 1 last year. But she's even more excited about having a reworked version of "A Thousand Years" -- called "A Thousand Years Part 2" -- in the newly-opened final installment of the Twilight saga.
Christina says back in April, the movie company decided that the only song that would be right for Breaking Dawn - Part 2 would be, once again, "A Thousand Years," because Christina specifically wrote it about the love between main characters Bella and Edward. "After they chose the song, they said, 'How can we make it special?'" Christina tells ABC News Radio. "And then we kinda all talked about it...and I saw the film, and I said, 'OK. I know exactly what to do. I wanna make it a duet. I wanna make it orchestral. I wanna add a verse.'"
The new version is a duet between Christina and her ex-boyfriend, Tony-winning Broadway star Steve Kazee . "It was so awesome to get to redo it," Christina gushes. "I always imagined it being a duet. The lyrics are from a female perspective in the first verse and a male perspective in the second verse but we didn't have the time to do a duet last time. And so it felt really special to kinda get to make it feel new but, you know, pay homage to the song that everybody associates with the movie now."
As for whether or not it's awkward to have a romantic duet out there with a guy she's no longer dating, Christina says of Kazee, "He's the sweetest guy ever, and I'm so honored to have him on the song. He's such an incredible singer." She says the duet is "natural" and "believable" because, as she says, "At the time when we were dating...we were hoping [we'd last] 'a thousand years' so, it was very romantic." She adds, "He and I definitely meant it when we sang it.
Christina is also happy with the song's placement in the film: it soundtracks the final scene between Bella and Edward. "She takes him on this little montage journey of the past five films," she explains. "And so it's this unbelievable moment that the audience has, and then, you know, 'A Thousand Years,' is playing through it all."
So, what did Twi-hard Christina think of Breaking Dawn -- Part 2 ? Was she satisfied? She tells ABC News Radio that she saw the movie in a small screening room with only her manager, the director and the music supervisor, but she couldn't control her emotional reaction to it.
"You woulda thought because I was with them that I would have been cool but I was, like, crying, and like, gasping, and, you know, the whole time and completely freaking out," she recalls. "I absolutely love this one. You know, it's bittersweet that it's coming to an end at all, but I was shocked and I was warmed, and everything that you want a movie to do."
Christina plans to work on a new album in early 2013. She currently has a holiday EP, A Very Merry Perri Christmas , in stores now.
Copyright 2012 ABC News Radio