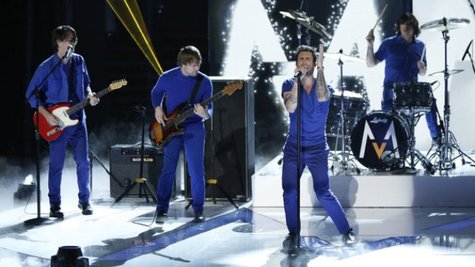 There are some things that never get old, no matter how often you do them, and for Maroon 5 , one of those things is appearing on Saturday Night Live . The group makes its fourth trip to the SNL stage this weekend, but they definitely aren't jaded about the experience.
"This is one of the performances that, I think, we all definitely still get nervous for," Maroon 5 guitarist James Valentine tells ABC News Radio from backstage at SNL rehearsal. "I guess the fact that it's live has a certain amount to do with it. Anything could actually happen." He adds, "I'm such a big fan of the show and always have been...and so that makes it pretty special, as well."
In fact, James is such a fan that he even has his own personal favorites among the cast members. "I love Bill Hader ," he says. "The new guy, Taran [Killiam] ? He's amazing. The Homeland thing they did last week was just incredible." And it turns out the band even has a personal connection to the SNL cast -- James says he's pretty sure Maroon 5 drummer Mickey Madden went to UCLA theater school with Nasim Pedrad .
So what can fans expect from Maroon 5's fourth SNL appearance? Will Adam Levine appear in a sketch making fun of The Voice, for example? James says he doesn't think the band will be doing any acting, but they will of course perform the traditional two songs: their mega-smash "One More Night" and their new single "Daylight."
Copyright 2012 ABC News Radio