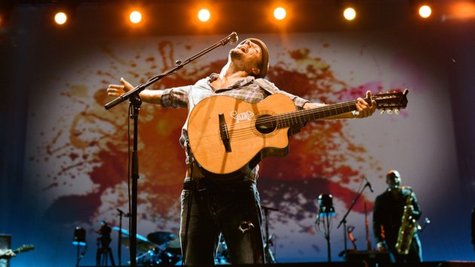 One of the biggest moments of Jason Mraz 's entire career was going to be his December 11 concert at Madison Square Garden. Not only is it his final show of 2012, but it was going to be the first time he'd ever headlined at the world-famous New York City venue. But now, he's graciously agreed to move his big show to make way for something more important: a huge benefit for Hurricane Sandy victims.
A note on Jason's website says that he's now moved his show from December 11 to December 10. The Sandy benefit, which will feature Billy Joel , Bruce Springsteen , Paul McCartney , Jon Bon Jovi , Alicia Keys and other big names, is actually on December 12, but the organizers needed access to the Garden the day before to load in the equipment and rehearse.
It would seem obvious that Jason would also join the lineup for the benefit, which is called "12.12.12.: The Concert for Sandy Relief," but so far, that hasn't been announced.
All tickets for Jason's originally scheduled December 11 show will now be honored on December 10, and if you can't attend, you can get a full refund.
Copyright 2012 ABC News Radio