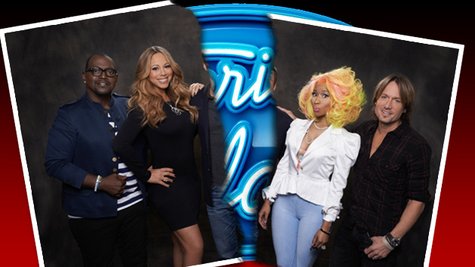 Feud? What feud?
Apparently, American Idol judges Mariah Carey and Nicki Minaj have managed to smooth over their differences, which came to a head in an explosive argument several weeks ago that everyone saw, thanks to a leaked on-set video.
Speaking to MTV after taping a day of American Idol auditions in Texas, Nicki says of her on-set relationship with Mariah, "We've been fine." That's hard to believe, considering the comments that Nicki made in her recent E! special. Nicki expressed outrage and anger at Mariah's alleged claim that Nicki threatened to shoot her, and also accused Mariah of "nitpicking" her and of not wanting another female on American Idol because she was afraid someone would "steal her shine."
Even so, Nicki tells MTV that, while it's been somewhat "interesting" for her to adjust to the rigid schedule of a TV taping, "I love the people there, so that makes it OK."
We'll see just how the rapper and the diva interact with one another with the 12th season of American Idol kicks off in January.
Copyright 2012 ABC News Radio