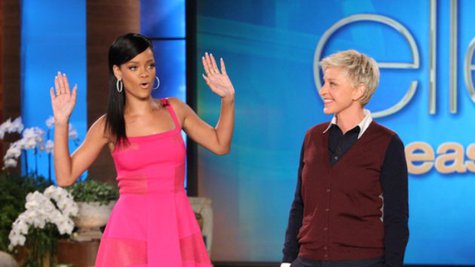 Does Rihanna want kids one day?
"Yes, eventually. I mean, absolutely," the 24-year-old said on Wednesday's The Ellen DeGeneres Show .

However, Rihanna admitted that she'd like to have kids after she first finds a partner. "I would prefer to have a full family," she told Ellen DeGeneres . "I'm pretty sure I could handle it if I had to own my own, but that's not what I'm striving for."
Rihanna doesn't have much time for kids right now, though, especially since this week she's embarking on her "777 Tour" that has her performing in seven countries in seven days. Rihanna also drops her seventh studio album in seven years, Unapologetic, on Monday, Nov. 19.
While on Ellen, the singer also played a game of "Who Would You Rather" with the host. Asked to choose between Brad Pitt and George Clooney , Rihanna chose Brad. Taylor Lautner vs. Robert Pattinson ? Rihanna said she wasn't sure. Halle Berry or Sofia Vergara ? Rihanna said she "loves" Sofia. Jimmy Kimmel or Jimmy Fallon ? Fallon was Rihanna's choice. And finally, Channing Tatum or Ryan Gosling ? Her choice was Channing, proving why he was just voted People magazine's Sexiest Man Alive for 2012.
Copyright 2012 ABC News Radio
video platform video management video solutions video player