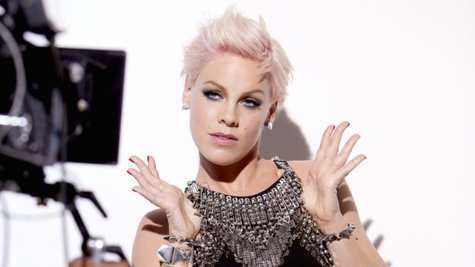 Pink is her usual candid, outspoken self in two shows airing Tuesday night on VH1: Behind the Music , airing at 10 p.m. ET, and a new installment of Storytellers airing at 11 p.m. ET.
"Oh, let's just get real honest," says Pink in a teaser for Storytellers . In that teaser, she also explains that she likes to make jokes in her songs because "humor makes the pain go down easier." A sneak peek of the episode, featuring Pink performing an acoustic version of "Dear. Mr. President," can now be seen online at VH1.com .
As for Behind the Music , it'll feature Pink talking about how motherhood has changed her life, as well as all her recent success. In addition to new footage of Pink, the episode also includes a new interview with Pink's husband, Carey Hart .
In other Pink news, on Monday, she announced the opening acts for her upcoming Truth About Love tour: Swedish alt-rock band The Hives and City and Colour , the stage name of folk-rock indie artist Dallas Green . As previously reported, Pink's Truth About Love tour kicks off February 13 in Phoenix, AZ. It'll hit hitting about 23 other cities across North America and wrapping up in Boston, MA this March.
Finally, Pink has revealed that she'll be performing her new single, "Try," on the American Music Awards this Sunday.
Copyright 2012 ABC News Radio
Get More: Storytellers