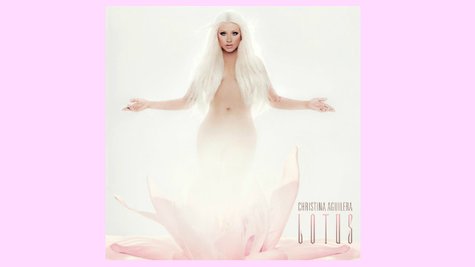 Christina Aguilera 's long-awaited new album Lotus -- her first since 2010's Bionic -- is in stores on Tuesday. To mark the occasion, Christina will perform on Tuesday's installment of The Voice : she'll team up with fellow coach Cee Lo Green to perform their collaboration on the album, "Make the World Move."
It's fitting that Christina will celebrate the album's release on The Voice , since she says that the contestants partly inspired Lotus. Specifically, Christina says, when she heard what an inspiration her music had been to her team this year, she set out to make music that would influence future singers in the same way.
"This year in particular, season three, I have a very pop-oriented team," Christina says. "And they come to me and they're like, 'You know, I remember being in my room trying to dissect and learn all the little ad libs and your technique and the runs...and hitting your notes.'" Christina adds, "It inspired me to want to give more of myself vocally on this record, to let the next generation of great singers evolve, and be inspired once again to dissect and learn."
Overall, Christina says she sees Lotus as "me coming to this place of feeling rejuvenated and embracing myself as a woman and who I've become as an artist and all that I've experienced." The title, she says, is inspired by the fact that the lotus is "an unbreakable flower that survives under the hardest conditions and still thrives."
While Bionic, a commercial disappointment, was very electronic-sounding, Lotus features ballads, soulful numbers and pop songs. In fact, Christina even worked with Max Martin , the Swedish hitmaker who was responsible for many Britney Spears , Backstreet Boys and 'N SYNC hits.
"Every record is almost, like, a reinvention, if you will, because it showcases the person that I've become since the last record," says Christina. As for why it seems to take her so long to make her albums, she explains, "It's gotta be right. I have to put things out and only do things when it just feels 100 percent, genuine, real. I'm obsessed with details. So, it all has to be right."
Of course, Christina's many commitments also got in the way of recording. "It was really hard for me to sort of juggle everything...being a mom, being on The Voice and everything," she admits. "And plus, every project that I put my foot forward in doing, I believe wholeheartedly, passionately in. So, I can't give anything less than 150 percent and when you're going, going, going like that, it's a lot of work."
Christina will sit out the next season of The Voice , and fans are hoping she'll announce a tour to support Lotus.
Meanwhile, in addition to Tuesday's Voice performance, you can see Christina hit the stage this Sunday night on ABC on the American Music Awards.
Copyright 2012 ABC News Radio