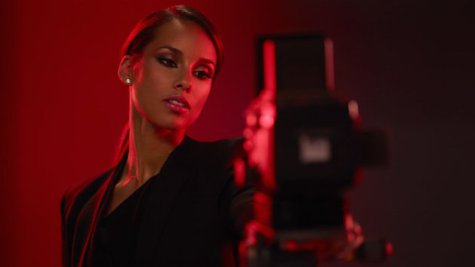 Alicia Keys is a changed woman, and she's proud of that on her latest single "Brand New Me," off her upcoming album Girl on Fire , due out November 27. The piano-driven song is just one of a handful that Alicia co-wrote with Emeli Sande , who in turn features a track co-written by Alicia on her album, Our Version of Events .
In an interview last month with ABC News Radio, Alicia raved about her then-upcoming single, "Brand New Me." "You gotta hear this song," she said. "The tagline is 'Don't be mad/I'm just a brand new kind of me/And that ain't bad/I found a brand new kind of free,' and that's everything that I am."
Some fans may remember the song from when Alicia performed it at her iTunes Festival show in London back in September. In addition to officially releasing the track as a single, Alicia also gives fans a behind-the-scenes look at her "Girl on Fire" music video shoot. She tweeted a link to the clip, inviting fans to join her in her dressing room, "Take a look… just me&U!"
Copyright 2012 ABC News Radio