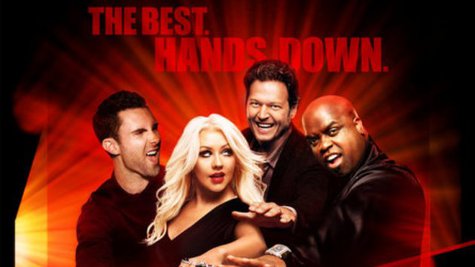 The top 12 finalists were announced on Thursday's edition of The Voice . They are: Amanda Brown , Bryan Keith , Melanie Martinez , Terry McDermott , Cassadee Pope , Michaela Paige , Dez Duron , Sylvia Yacoub , Adriana Louise , Trevin Hunte , Nicholas David and Cody Belew .
The top two contestants from each team who received the most public votes advanced automatically, while the judges – Adam Levine , Cee Lo Green, Blake Shelton and Christina Aguilera – had to choose just one of their remaining three artists to move on in the contest.
There were also live performances by Maroon 5 and Jermaine Paul , the season two winner of The Voice. Maroon 5 performed "Daylight" and Paul performed his new single, "I Believe in this Life." His new album is due out December 18
As part of the evening's entertainment, Team Adam and Team Blake joined forces to sing Kelly Clarkson 's "Stronger (What Doesn't Kill You)," while Team Christina and Team Cee Lo put on a united performance of Train 's "Drive By."
Here's how the results were announced:
Team Adam:
-- Former Adele backup singer Amanda Brown and Latin performer Bryan Keith were the recipients of the most votes in Team Adam, leaving Loren Allred , Melanie Martinez and Joselyn Rivera waiting for their mentor's decision. Adam had the tough choice of picking one to advance and decided to go for artist, photographer and singer Martina Martinez. Joselyn and Loren were sent home.
Team Blake:
-- Automatically safe in Blake's team were Scottish rocker Terry McDermott and former Hey Monday vocalist, Cassadee Pope. That meant that Julio Cesar Castillo , Michaela Paige and Liz Davis awaited their mentor's choice. In the end, Blake went with Michaela, bringing an end to Julio and Liz's time on the show.
Team Christina:
-- Getting an automatic place in the final 12 were Season two reject, Dez Duron and Egypt-born Sylvia Yacoub. Adriana Louise, De'borah and Devyn DeLorea joined hands to await their fate. Christina saw the most potential in former restaurant server, Adriana. De'borah and Devyn hugged Christina and left the stage.
Team Cee Lo:
-- Young soul singer Trevin Hunte and recovering addict Nicholas David were both safe, thanks to America's vote. MacKenzie Bourg , Diego Val and Cody Belew looked to their mentor for his decision. Cee Lo thought the most improved was the soulful Cody, so he advances to the final 12. Mackenzie and Diego were eliminated.
The Voice returns to NBC on Monday at 8:00 p.m. Eastern time.
Copyright 2012 ABC News Radio