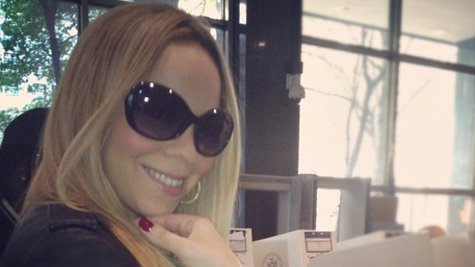 While campaigning for President Obama earlier this year, Mariah Carey performed a song called "Bring It On Home." Now, to mark Obama's re-election, she's released the song online. The song first appeared on Global14.com , the website of her producer, Jermaine Dupri , but has since made its way to YouTube and elsewhere.
The gospel-flavored ballad doesn't actually mention President Obama -- it just has a lot of references to "coming together" and "winning." "We're just everyday people trying to make it through the pain/Intentionally hurting each other, playing silly games," Mariah sings. "But when it comes down to win or lose, don't give up the fight/ cause strength is what we need and love can save our lives."
The chorus goes, "So when you're down and frustrated, let 'em all keep debating because we gon' win/And everybody be prepared to do the best that you can do 'cause I know we goin' in/Bring it home/I know we gon' bring it home."
Mariah sent out an excited series of tweets after the election, writing, "Congratulations to our beloved President Barack Obama, our spectacular First Lady Michelle Obama & the adorable Malia & Sasha. We love you!" and "INCREDIBLE SPEECH!!!!!! Watching in a room full of diverse people-all truly moved. Thank you America for President Obama-4more yrs."
Copyright 2012 ABC News Radio