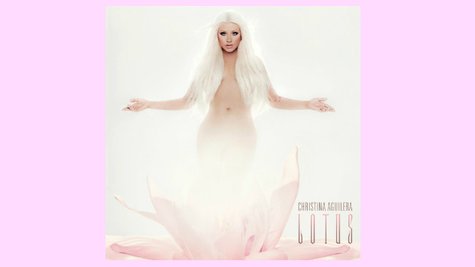 Several songs from Christina Aguilera 's upcoming album Lotus are now online for your listening pleasure, including the two duets she did with her fellow Voice coaches, Cee Lo Green and Blake Shelton .
The song with Cee Lo, "Make the World Move," is a funky, soulful and upbeat song that talks about the power of music. "The time is now, no time to wait/turn up the love/turn down the hate/ make the world move!" Christina and Cee Lo sing. Cee Lo isn't very prominent on the song, however -- you can just hear him chiming in on the chorus. In the intro to the song, Christina says that she and Cee Lo "let loose and had fun" on the track.
Her collabo with Blake, "Just a Fool," is more of a duet, and it's definitely country-flavored, but still soulful. It's a full-fledged duet, with Christina and Blake taking solo verses and then coming together for the chorus. In her intro to her song, Christina reveals that out of all three Voice coaches, she's the closest to Blake.
Lotus is in stores November 13.
Copyright 2012 ABC News Radio