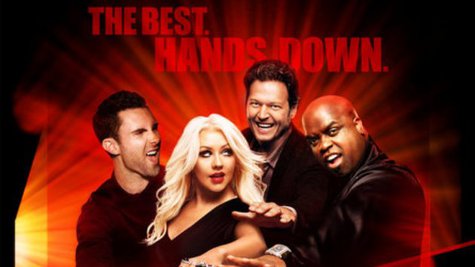 Monday's edition of The Voice featured the first of its live playoff rounds. Singers representing Blake Shelton and Adam Levine competed for America's votes and the possibility of having to be saved by their mentors. Contestants representing Cee Lo Green and Christina Aguilera sat out and will perform in a similar manner on Wednesday.
Viewers will have the chance to save two singers from each team via a public vote, with each judge making the choice to advance a third from their own team to the finals. By the end of the playoffs, just twelve contestants will remain -- three on each judge's team. This week's results will be revealed on Thursday.
Here's a rundown of Monday's performances:
Team Adam:
-- Joselyn Rivera had earlier switched teams when Adam used his steal to grab her after Christina rejected her. She performed "Give Your Heart a Break" by Demi Lovato . Blake said Joselyn "always delivers and looks like a star." Christina appreciated Joselyn's stage presence. Adam was proud of Joselyn, and noted that she thrived in the live environment.
-- Photographer and artist Melanie Martinez sang the classic "Hit the Road Jack," made popular by Ray Charles . Blake admired the way Melanie makes songs her own. Christina thought she heard early nerves but appreciated the artistic vision. Adam liked the originality and thought the performance was amazing.
-- Bryan Keith 's father is a well-known Latin singer but Bryan's hoping to become a star on his own. He played to his vocal strength with the song "Iris," by Goo Goo Dolls . Blake compared Bryan's lower register to that of Neil Diamond . Christina said Bryan "owned the song." Adam called Bryan's energy "inviting."
-- Wedding singer Loren Allred has been Adam's most improved contestant so far. She performed Lisa Stansfield 's "All Around the World." Cee Lo loved the "cool and sexy" rendition of the song. Adam also loved the song choice. He liked the higher-register vocals near the end and wanted to hear more.
-- Amanda Brown is a former backup singer for artists like Adele and Alicia Keys . She took on Aerosmith 's "Dream On." Christina admired the way she "brought it home." Adam was pleased that he had used his steal in an earlier round to take Amanda when Cee Lo rejected her. He called her a "rock star."
Team Blake:
-- Scottish rock singer Terry McDermott took on "Don't Stop Believing," by Journey . Christina called Terry "easy on the ears," with effortless execution. Cee Lo loved the song and thought Terry was "genuine rock'n'roll." Blake believed that God gave Terry the ability to "rock just a little bit more."
-- Liz Davis is a country music girl through-and-through. She took the chance to soften her image with the powerhouse ballad "Independence Day," by Martina McBride . Christina liked Liz's strong solid voice. Cee Lo said the performance made him proud to be American. Blake was proud that Liz was the only country artist in the contest, representing him.
-- Casadee Pope , a former member of the touring band Hey Monday , performed a version of Avril Lavigne 's "My Happy Ending." Christina liked Casadee's "pretty tone" but heard some pitch issues. Cee Lo thought the song came to life with Casadee's version. Blake told Casadee that she'd be around for a long time.
-- Internet radio host Michaela Paige is described by her coach as a "freak of nature on the stage." She sang the Neon Trees hit "Everybody Talks." Cee Lo called it the best performance of the night. Adam was surprised at just how good Michaela's performance was. Blake agreed that this was the best performance of the night.
-- Mariachi singer Julio Cesar Castillo was the first person to sing a song in Spanish on The Voice . He kept up his commitment to singing in his mother-tongue with a rendition of "El Rey," by José Alfredo Jiménez . Christina said Julio made the Latino fans proud and she loved his passion. Blake was pleased with the way Julio made everyone understand the feeling behind the song, if they spoke Spanish or not.
The Voice returns to NBC on Wednesday at 8:00 p.m. Eastern time.
Copyright 2012 ABC News Radio