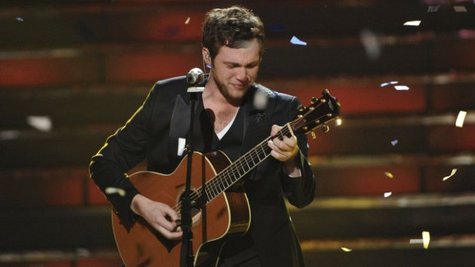 To aid in the recovery from Hurricane Sandy, Phillip Phillips will do a special benefit concert November 15 from Staten Island, New York, one of the area's hardest hit by the storm.
The concert, which will feature Phillip performing with kids from the chorus of Staten Island Middle School, will stream live at 6 p.m. ET on the website StageIt . The chorus, also known as the PS22 chorus, has performed in the past with stars like Katy Perry and Jennifer Hudson .
Now, here's where the benefit part comes in: watching the concert requires a cash donation. The suggested amount is $50, though the website lists the official benefit concert price as "pay what you can." All proceeds from Phillip's performance will go to Hurricane Sandy relief efforts via the Red Cross and other charities. Phillip's song "Home" has been used by some TV stations to soundtrack coverage of the storm's aftermath.
And speaking of 'Home," the American Idol champ has announced a contest centered around that tune, offering fans the chance to win a round-trip ticket home for the holidays. To enter, fans must submit a photo, video or text telling Phillip the reason why they want to head home this holiday season.
You've got until November 29 to enter, and until December 5 to vote for the winning entry; the winner will be announced on December 6. To enter or to get more information, check out Phillip's official website .
Copyright 2012 ABC News Radio