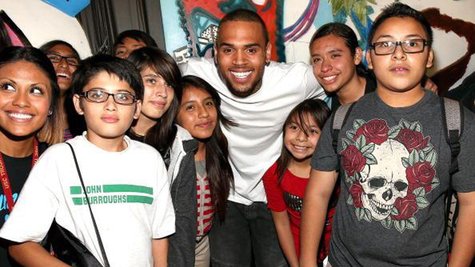 Chris Brown announced the launch of his Symphonic Love Foundation Monday with a musical, visual and performing arts event in Los Angeles. The foundation provides grants to support and help create art programs for youth, and to encourage public service, respect and kindness.
In a press release statement announcing the foundation launch, Brown said, "It definitely has been a labor of love. That what it's all about for me -- art and love."
Breezy created the Symphonic Love website to showcase his favorite programs and nonprofits, and to offer a creative resource for fans. The site offers interactive features that enable fans "to upload their artwork, listen to music, watch videos, get involved and get help to live more creative and loving lives."
Brown's statement continued, "Art influences every aspect of my life completely. It helps me to be myself. Focusing on positivity and love helps you have respect for yourself and others. It's what I strive for, so I hope this foundation and the website encourages everyone to express themselves creatively and be who they want to be."
The singer says the website "has resources where you can immediately get inspired and get support for all kinds of difficulties, and you can use your creativity to take you to a different world. That's what I've been doing since I was a kid, and I know kids need that same kind of encouragement."
In 2012, Brown provided more than $200,000 in grants for art and youth education programs.
Copyright 2012 ABC News Radio