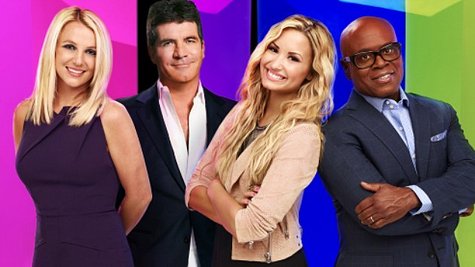 On Wednesday's edition of The X Factor, Khloe Kardashian Odom and Mario Lopez made their debut as the show's new hosts, and the final sixteen acts got to sing live for the first time.
Simon Cowell , L.A. Reid , Demi Lovato and Britney Spears took their seats at the judges' table and offered comments on everyone's performances. They will decide which acts will remain safe and which will have to sing for their survival. Their announcements will be made on Thursday's show. There is no viewer vote this week.
Simon took a moment to give a "shout out to the East Coast" as residents recover from Hurricane Sandy. Simon said, "Our sympathies are with you. Our hearts are with you and we hope things get sorted out quickly."
The theme for the song choices was "Made in America." Here's a rundown of the performances:
Young Adults/Demi Lovato:
-- Sixteen-year-old Paige Thomas has personality and looks but her vocal needs work, according to her mentor. She sang Haddaway 's "What Is Love." L.A. was unsure of the song choice. Britney liked the outrageous staging. Simon liked the song choice. Demi was proud of her artist.
-- Jennel Garcia was told to show more confidence by Demi, so she hit the stage with Motley Crue 's "Home Sweet Home." L.A. was surprised and gave Jennel a "ten." Britney said she rocked it out. Simon's only slight criticism was that Jennel might be a Demi clone.
-- CeCe Fray comes across as unlikeable and needs to work on that. She appeared with platinum blonde hair for her version of Patti Smith Group 's "Because the Night." L.A. called the performance strong but needed vocal work. Britney agreed. Simon liked CeCe's fearless approach and looks forward to seeing her in the contest.
-- Demi calls Willie Jones "unique." He was suffering from a lack of confidence at rehearsals. He sang Gretchen Wilson 's "Here for the Party." L.A. called Willie "entertaining and adequate." Britney thought Willie was a star, while Simon thought Willie was silly and "cheap" looking.
Teens/Britney Spears:

-- Arin Ray is fast becoming a heartthrob on the show. He decided to combine his vocals with choreography as he performed a version of "You Keep Me Hangin' On," by The Supremes . L.A. called the song choice creative but said Arin lacked a good vocal. Demi thought the performance was "stiff." Simon said the backup dancers may have been distracting.
-- Diamond White has featured prominently in the audition rounds. Britney explained that Diamond should stick to the melody of her song choice, which was Train 's "Hey, Soul Sister. L.A. thought the beginning was "a bit mechanical but got better." Demi loved the song choice. Simon praised Britney's coaching of Diamond.
-- Beatrice Miller was unsure about the song given to her by Britney but her mentor encouraged her to make "I Won't Give Up" by Jason Mraz her own. Demi was impressed. Simon thought the song choice was good but was worried about "tuning issues." Britney disagreed and said she loved the performance.
-- Carly Rose Sonenclar was encouraged by Britney to act her young age, and Brit dressed her in a schoolgirl outfit. She performed a medley of Flo Rida 's "Good Feeling" and Christina Aguilera 's "Something's Got a Hold On Me." L.A. called Carly's voice "beautiful" but was unsure that she was having fun. Demi thought it might not be Carly's time right now. Simon sensed that there was a lack of connection with the song choice.
Over 25s/L.A. Reid:

-- David Correy was told by L.A. that he needed to work to make people fall in love with him. David sang Whitney Houston 's "My Love Is Your Love." Britney called the performance "amazing." Demi managed only a "pretty good." Simon thought the performance looked a little "desperate."
-- Vino Alan is overcoming his insecurities with help from mentor L.A. Vino rocked out on Nickleback 's "Gotta Be Somebody." Britney felt a little bored with the performance. Demi was unsure Vino looked like a pop star. Simon thought the song and arrangement were completely wrong.
-- Country singer Tate Stevens admitted that he was missing his family at home. He sang Craig Morgan 's "Tough." Britney said Tate always "wows" her. Demi got "the chills." Simon liked Tate's honesty.
-- "Mr. Entertainment," is L.A.'s nickname for Jason Brock . He sang the Jennifer Lopez song "Dance Again." Britney agreed that Jason's performance was, indeed, entertaining. Demi was unsure about the song choice. Simon used the word "horrendous" for the first time. He hated Jason's performance.
Groups/Simon Cowell:
-- Trio Sister C has been warned to make sure that they project a "likeable" front. They performed "Hell on Heels," by Pistol Annies . Britney thought the song was "interesting." Demi liked the girls' sound but not the stiff performance. Simon called the young women "fantastic."
-- Rap/pop trio Lyric 145 was put together by mentor Simon. They worked hard in rehearsals on their choreography. The threesome performed a mash-up of "Boom! Shake the Room" by DJ Jazzy Jeff & the Fresh Prince and PSY' s "Gangnam Style." L.A. thought that the trio would never sing that combination as a recording. Demi, however, loved the performance and choice of material.
-- Female group LYLAS has changed its name "for boring legal reasons," according to Simon. They are now 1432 – it means "I love you too." They sang an arrangement of Taylor Swift's "We Are Never Ever Getting Back Together." L.A. thought the performance was "karaoke." Britney was pleasantly surprised. Demi thought the girls did not "click."
-- Emblem3 is an all-male trio who already seem to have plenty of female fan attention. They sang "One Day," by Matisyahu . L.A. called Emblem3 "America's next pop sensation." Demi was swooning and trying not to flirt. Simon was impressed with the boy's commitment. He warned the audience to "remember this night," as the first time they saw his impressive boys.
The X Factor returns to Fox on Thursday at 8:00 p.m. Eastern time.
Copyright 2012 ABC News Radio