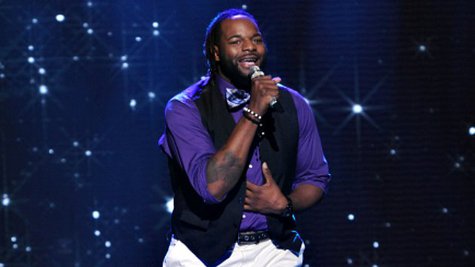 Jermaine Jones, who was booted from American Idol on Wednesday night for not disclosing his criminal past, claims he doesn't remember committing one of those crimes: giving false in formation to the police.
On two separate occasions last year, Jones gave a fake name to police. When asked by People magazine why he did that, he said, "I forget the exact situation. I guess I was just being careless, I should say. It was last year." When the People interviewer replied, "You don't remember a situation that happened a year ago?," Jermaine said, "I don't.'
Jermaine also tells People magazine that he was "confused" by the whole situation, because he did initially tell the Idol producers that he had been arrested in the past, and that they did "an extensive background check" on him. He explains, "I did not know I was breaking the rules, because before I went, I had to obtain a lawyer and take care of some fines before I could go. I just thought everything was taken care of."
Faced with Idol executive producers Ken Warwick and Nigel Lythgoe and a camera crew on Tuesday -- which viewers saw on Wednesday's show -- Jermaine tells People , "I did not know any of it [was going to happen]. I was actually confused. I didn't know what was going on. And I walked in and there were all these lights and cameras. I didn't know what was going on.
Jermaine says he's currently planning to record an album and go on tour. As for his past indiscretions, he tells People, "Everyone has a past. It's not like I shot someone or assaulted anyone. I was younger. I got caught driving with a suspended license. I gave a false name. I'm not trying to say it was okay, but I'll be all right."
Copyright 2012 ABC News Radio