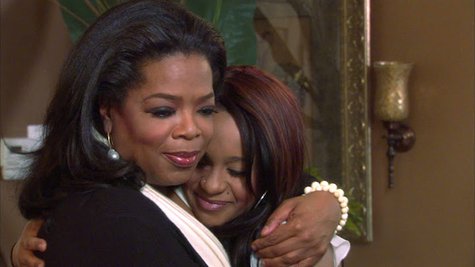 Whitney Houston 's 19-year-old daughter says she's doing the best she can, following the sudden death of her mother last month.
Bobbi Kristina Brown broke her silence in an interview with Oprah Winfrey that aired Sunday night on the OWN series Oprah's Next Chapter . When asked how she is holding up, Bobbi Kristina said, "I'm getting through it...I'm doing as good as I possibly can at this point." She added that she's "accepted" that Whitney is gone.
Whitney's only child with ex-husband Bobby Brown said she can still feel the late singer's spirit. She said, "I feel her pass through me all the time." She said she intends to carry on her mother's legacy by singing, acting and dancing.
Bobbi Kristina said there's been a lot of negative talk about the music icon, but only her family knew the real Whitney.

Bobbi Kristina is splitting her time between the home she shared with Whitney, and the home of Whitney's manager and sister-in-law, Patricia Houston , who was also interviewed.
Patricia recalled the day Whitney died -- a day when the singer was getting ready for Clive Davis ' pre-Grammys party, as well as an infomercial taping. She said she heard screams from Whitney's room and saw a hairstylist drop to her knees. She said she also witnessed a security guard make a failed attempt to revive Whitney. She said she saw paramedics "cover her up. And I knew that was it. I knew that that was it. And looking at her, and looking and watching that, I still could not believe it." She said Whitney had a "peaceful look on her face."
Patricia said two days prior to Whitney's passing, the singer had a verbal argument with an X Factor contestant at an event -- reportedly Stacy Francis .
Patricia said she was disappointed that a photo of Whitney in her casket was leaked to a tabloid. She said she was more upset that it was published by the National Enquirer than the fact that it was sold to the tabloid by an unknown person.
Patricia also touched on Whitney's relationship with Bobby Brown, saying she doesn't believe he introduced Whitney to drugs. She said many people interfered with the marriage. Patricia said she does not believe Whitney had been abusing drugs at the time of her death.
Whitney's brother, Gary Houston , who appeared towards the end of the episode, denied that his family was responsible for Bobby leaving his ex-wife's funeral early over a seating dispute.
Despite the kind words for Bobby in the interview, TMZ.com reports Bobbi Kristina wants to change her name to Kristina Houston as a way to separate herself from her father.
The family's interview with Oprah aired two days after Whitney's reported boyfriend, rapper Ray J , publicly discussed her death for the first time. MTV reports that during an appearance in Los Angeles, he said, "I really miss my friend, you know, I really do. I'm still hurting."
Whitney died February 11 at the Beverly Hilton Hotel. A cause of death has not yet been revealed.
Copyright 2012 ABC News Radio