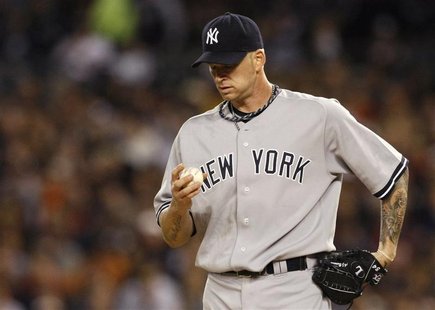 (Reuters) - Pittsburgh Pirates pitcher A.J. Burnett will undergo surgery on Friday to repair a fractured right orbital bone sustained in a bunting drill, the team said on Thursday.
Burnett was injured Wednesday when he fouled a bunt attempt into his face at the team's spring training field in Florida.
The right-handed pitcher, acquired last month in a trade with the New York Yankees, had preliminary examinations but had gone to Pittsburgh to be evaluated by specialists.
The Pirates said they had no word yet on a possible recovery time for Burnett, who was scheduled to face his former team, the Toronto Blue Jays, Sunday in the National League team's spring training opener.
(Reporting By Larry Fine in New York; Editing by Frank Pingue)