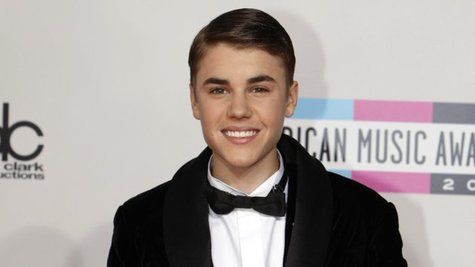 Justin Bieber has been making headlines for what seems like forever, so it's hard to believe that he's finally old enough to vote in his native Canada. The Bieb marks his 18th birthday Thursday, and he's managed to pack quite a lot into those 18 years.
Though he's never won a Grammy, Justin's been nominated several times, and his trophy shelf at home is loaded with four American Music Awards, six Billboard Music Awards, two Juno Awards, two MTV VMAs and eight Teen Choice Awards, among other kudos. And, while it's not a trophy, performing for President Obama several times is yet another honor that Justin has under his belt.
Justin's four releases, which include an EP, a remix album and two studio discs, have all been best-sellers -- he's the first solo artist ever to score three #1 albums before his 18th birthday, in fact. His 2011 Christmas album, Under the Mistletoe, became the first Christmas album by a male artist ever to debut at #1. Released on November 1, by December 31, it managed to rank among the top 10 best-selling albums of the entire year. Justin, who donated some of the proceeds from the album to charity, is currently working on his third studio release, Believe, and a single is due at any moment.
But it's not just music -- Justin truly is the prince of all media. His 2011 3-D concert film Justin Bieber: Never Say Never became the highest-grossing music concert film since 1984. He's made two acting appearances on the TV series CSI , guest-starred on Saturday Night Live, popped up in the opening montage of the Academy Awards last weekend, and proved his comedic skills on FunnyorDie.com. He's set to appear in the first episode of the relaunched MTV series Punk'd, airing later this month, and is attached to a basketball-themed movie spearheaded by Mark Wahlberg .
And when we say prince of all media, we mean social media as well. Few artists have harnessed the power of the Internet and social media as deftly as Justin. Discovered five years ago through homemade YouTube videos, he's racked up 17.8 million Twitter followers and 40.8 million "likes" on Facebook. In July of 2010, his video for "Baby" became the most-viewed video in YouTube History, and as of February 2012, it had more than 700 million views. His official YouTube channel has 2.3 billion views.
Justin Bieber's empire also includes his signature fragrance, Someday, a newly-announced line of signature Hallmark greeting cards and a variety of products ranging from trading cards, books and dolls to a Justin Bieber singing electric toothbrush.
Despite all that success, the Bieb has so far managed to avoid any true personal scandals. There have been no DUIs or drug busts, he has a great relationship with his parents and his family, his relationship with Selena Gomez appears to be solid, and the paternity lawsuit he was hit with last year is widely believed to be a fabrication on the part of the woman who filed it.
Speaking to V magazine earlier this year, Justin addressed the fact that he's growing up, and how it might affect his music. "People need to know I'm not a kid anymore," he said. "But at the end of the day, I'm not completely grown-up. I'm still learning...I'm never going to make myself so the kids and the parents don't respect me....I don't want to start singing about things like sex, drugs and swearing." He added, "I've got a lot of work to do...I don't want people to just think of me as a teen sensation....I want to transition, and become the greatest."
Justin has already shown a lot of growth when it comes to his own work as a musician. "From when I recorded my first album to now, it's been a lot different," he explains. "You know, I'm more experienced in the studio. I know more about what I want and what I don't want." He adds, "Before, if someone said something, I wouldn't really stick up for myself...now, I'm like, 'No, I know what I want...I'm not gonna let you boss me around.'"
The Bieb will mark his big day with an appearance on The Ellen DeGeneres Show , and he promises some big news. And according to Mashable.com , his fans plan to celebrate their idol's coming-of-age with a very appropriate gift: they're going to try to break the Guinness World Record for most social media messages sent in a 24-hour period.
Copyright 2012 ABC News Radio